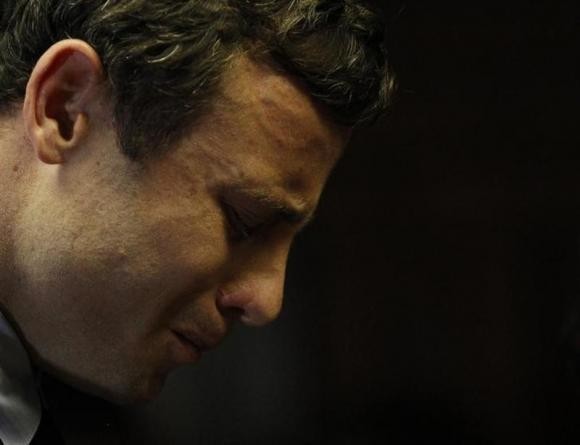 Oscar Pistorius vomited in the court as he heard the autopsy report of Reeva Steenkamp, given by a forensic medicine expert.
The judge in Pistorius' murder trial banned all live broadcast of the autopsy evidence.
Pathologist Gert Saayman said that broadcasting the report could compromise the "dignity of the deceased", the BBC reported. Saayman also said that the autopsy revealed very "personal nature of the findings" and that broadcasting the details may "harm the rights" of Steenkamp's family and friends. He added that it would go "against the morals of society" to broadcast graphic details of the deceased.
It appears that after the pathologist's remarks and Pistorius' reaction to the report, the judge banned coverage of the details both through live broadcast, as well as through Twitter feeds.
For the first time in South Africa's history, large parts of the trial have been televised. There are, however, some media restrictions in place.
Showing the faces of witness giving evidence is banned. Close-up shots of people in the courtroom are also not allowed.
The highly anticipated trial of Pistorius, often referred to as the 'trial of the century', began last week. The six-time sprint champion has pleaded not guilty to murdering his girlfriend.
The 27-year-old faces murder charges for shooting his girlfriend - the 29-year-old South African model Steenkamp - on Valantine's Day last year.
The double amputee, better known around the world as 'the blade runner', has argued that Steenkamp's death was an accident, and that he had mistaken her for an intruder breaking into his house from the toilet.
Last Tuesday, when the South African court heard grisly details of the killing of Steenkamp, Pistorius buried his head in his hands and wiped away tears, in what was the first sign of emotion.
Judge Thokozile Masipa of the Pretoria Court , who is known to have passed strong judgements in the past, now has the daunting task of deciding whether Pistorius is saying the truth or the murder was premeditated.
(Edited by Vishnuprasad S Pillai)