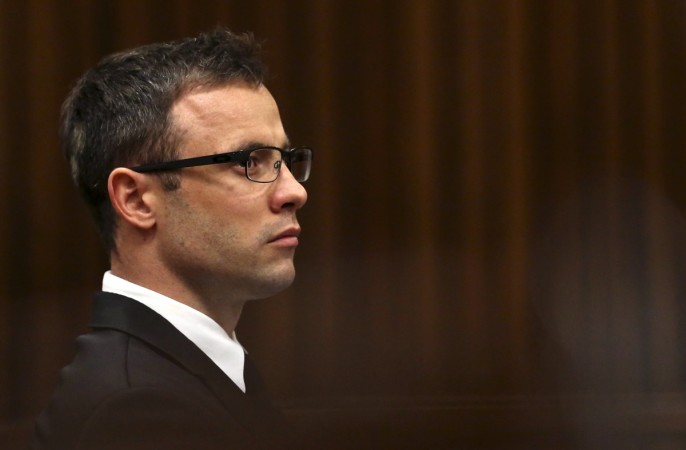 South African Olympic and Paralympic athlete Oscar Pistorius was on Wednesday sentenced to six years in prison for shooting dead his girlfriend, Reeva Steenkamp, at his house on Valentine's Day in 2013.
Pistorius fired four bullets at Reeva, a law graduate and a model, through a closed toilet door, apparently thinking it was an intruder.
The sentence handed out by Thokozile Masipa in Pretoria's high court was less than the expected compulsory minimum sentence of 15 years for murder that the prosecutors had demanded in a case that attracted global attention.
Masipa said that the evidence showed that Pistorius was "not a violent person," unlikely to commit a crime again and remorseful, the Guardian reported. She also said that the perception that he had intentionally killed Steenkamp was something that the court should correct "to prevent unjustified outrage from the public." She added that the athlete was "a fallen hero, who has lost his career, and been ruined financially. He cannot be at peace."
Here is a timeline of how the events unfolded:
Feb. 14, 2013 – Oscar Pistorius gets arrested at his Pretoria house on charges of shooting dead girlfriend Reeva Steenkamp.
Feb. 15 – Pistorius is produced before the Pretoria Magistrate's Court where the prosecutors announced that they wish to charge him on premeditated murder. He denied the charges while bursting into tears.
Feb. 17 – His agent confirms that all his future races have been cancelled "to allow Oscar to concentrate on the upcoming legal proceedings."
Feb. 19 – Steenkamp's funeral is held in Port Elizabeth. Pistorius appears in the court for his bail hearing. Prosecutor Gerrie Nel said he fired through a bathroom door killing Steenkamp. His defence read Pistorius' statement which stated that he mistook Steenkamp for an intruder.
Feb. 22 – Magistrate Desmond Nair grants Pistorius bail on the condition that he surrenders his passport and all weapons in his possession.
March 11– Athlete's lawyers appeals against the bail restrictions imposed on him.
March 28 – Pretoria high court eases bail restrictions allowing Pistorius to leave South Africa for international competitions.
Aug. 19 – Pistorius appears before Magistrate Nair for his indictment. He is accused of premeditated murder and possession of unlicensed ammunition. The state publishes a list of 107 possible witnesses.
Feb. 14, 2014 – On Steenkamp's first death anniversary, Pistorius posts a tribute saying: "No words can adequately capture my feelings about the devastating accident that has caused such heartache for everyone who truly loved – and continues to love Steenkamp."
Feb. 25 – Judge Dunstan Mlambo grants broadcasters permission to air most of his trial live but not the testimony.
March 3 – Trial begins in Pretoria's high court before journalists from around the world. A neighbour testifies before the court saying that she heard "terrible screams" of a woman.
April 7 – Pistorius takes the stand and apologises to Steenkamp's family. Five days of cross-examination follow in which the athlete consistently denies intention to kill his girlfriend.
June 30 – A team of psychologists and psychiatrists deny that Pistorius is suffering from any kind of mental illness.
Sept. 12 – Pistorius is convicted of culpable homicide or manslaughter.
Oct. 21 – Judge Masipa sentences Pistorius to five years in prison for killing Steenkamp. He gets a three-year suspended sentence on a firearms charge he was guilty of. He is taken to Kgosi Mampuru prison.
Dec. 10 – The judge grants prosecutors, who are not too happy with the sentence, the leave to appeal.
Oct. 19, 2015 – Pistorius is out of prison after a year to spend the remaining sentence under house arrest.
Dec. 3 – Appeal court convicts him of murder.
July 6, 2016 – Pistorius is sentenced to six years in prison on charges of murder.