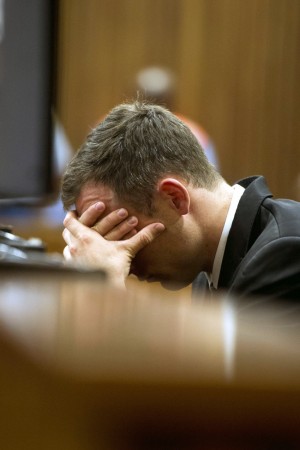 Oscar Pistorius has begun giving evidence in his own defense in the Pretoria High Court in the trial for the murder of his girlfriend Reeva Steenkamp on Valentine's Day last year.
As he took the stand, Pistorious apologized to Steenkamp's family and said in a trembling voice that he was "simply trying to protect" her. He also stated he has been having nightmares about his girlfriend.
"I have terrible nightmares where I wake up and smell Reeva", he told the court, adding that he has been on anti-depressants and sedatives since her death. He said that he is barely able to sleep and has lost considerable amount of weight since the event in 2013.
Pistorius, better known as the 'Blade Runner' due to the carbon-fire prosthetic limbs he uses in competitions, has been accused of killing Steenkamp deliberately, by firing four rounds of shots from a 9mm pistol, through a locked toilet door after an argument.
The 27-year-old Paralympic and Olympic sprinter has always argued that he mistook his 29-year-old girlfriend for a dangerous intruder, hiding in the toilet at his luxury Pretoria home. The Paralympic gold-medalist could face at least 25 years in prison, if found guilty of murder.
Earlier on Monday, when he heard the graphic forensic testimony, Pistorios wept and threw up in court. Forensic pathologist Jannie Botha described the multiple bullet wounds sustained by Steenkamp.
The Olympic sprinter sat in the dock with his head buried in his hands, sobbing and occasionally retching into a plastic bucket, just like in previous sessions last month.
Botha's testimony mostly circulated around Steenkamp's wounds and the sequence in which the bullets hit her. The information has been considered important as witnesses have testified to hearing a woman's scream, while the shots were fired. Pistorius is also expected to be grilled for the fact that he did not stop firing, despite possibly hearing a woman's voice from the toilet.
Botha agreed to an earlier testimony by pathologist Gert Saayman that the first bullet hit her in the hip, causing her to collapse. The final shot hit her in the head, killing the South African model almost instantaneously.
Pistorius, who was considered as a symbol of victory over physical adversity, has become a fallen hero after the incident. The highly anticipated trial of Pistorius, often referred to as the 'trial of the century,' began in early March.
(Edited by Vishnuprasad S Pillai)