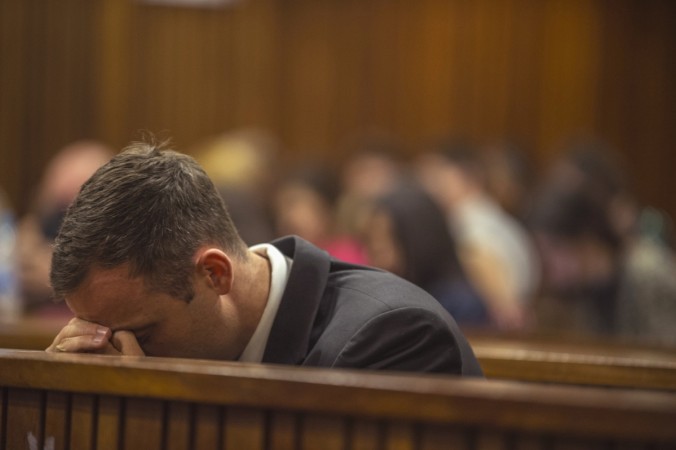 Read: Oscar Pistorius Sentencing Live: Where to Watch Online; Free Streaming Information
Summary:
South African athlete Oscar Pistorius has been sentenced to 5 years in prison for killing his girlfriend Reeva Steenkamp.
His defense team has said, however, that he would spend only a sixth of the term in the hospital wing of Pretoria's prison, which is 10 months, before being placed under house arrest for the remainder of this sentence.
Issuing the ruling after nearly 7-month long trial, Judge Thokozile, also gave the athlete a three-year suspended sentence for a firearms charge. The two sentences would be served in tandem.
The prosecution had called for a minimum of 10-year sentence and the defence had said he must rather serve community service and be under house arrest.
There is a general consensus that the judge was able to strike a delicate balance between giving too harsh a punishment and handing over too soft a sentence. "Sentencing is about achieving the right balance. Sentencing is not a perfect exercise," she conceded while delivering the 5-year sentence.
She added that there must be a balance between retribution, deterrence and rehabilitation.
"Having regard to the circumstances in the matter, I am of the view that a non-custodial sentence would send the wrong message to the community," she said.
"On the other hand, a long sentence would also not be appropriate either, as it would lack the element of mercy.
"What may appear to be justice to the general public may not be justice. Society cannot always get what they want."
She described the evidence of defence witness and social worker Annette Vergeer as "slapdash and disappointing" because she had argued Pistorius would be "a lot more vulnerable than the normal man" in jail. She contested that she was sure prisons were well equipped to cater for the requirements of a special needs inmate.
2;04 IST: Masipa finds that Oscar must serve five years imprisonment for culpable homicide.
Pistorius is asked to rise
2: 02pm IST: Masipa says the sentence cannnot be too severe too soft.
2:01pm IST: Masipa says that she believes that in Oscar's case, a suspended sentence would not be appropriate. She says she has considered all kinds of sentence for Pistorious
1: 53pm IST: Masipa emphasises that the toilet was a small enclosed space and the accused also had training in the use of firearms. She still reads other cases to relate to her decision.
1:43 IST: Judge Masipa in determining an appropriate sentence is to look at the degree of culpability of the accused. Masipa also points out that the ability of the accused to foresee the result of his action must also be considered. She then narrates stories of two similar cases of culpable homicide that has taken place.
1:40pm IST: Masipa now talks about Reeva. She was 'promising', full of hope for the future and lived life to the full. But nothing can reverse what happened on 14 February 2013.
1:35pm IST: Masipa says that there is no case in the fact that he was affected and suffered becuase of media. Says that she does not agree with the State that Oscar's mental and physical vulnerabilities should not be considered. Notes that the interest of society demands that a person must be punished when they err. South African law is equal to everyone, she says.
It is more an era of 'Eye for an eye', she says
1:32pm IST: Masipa now deals with the serious nature of the charges Oscar is found guilty of. He knew that there was someone behind the toilet door, says judge. The accused was also trained in use of firearm. It is 'aggrevating'. He seems apologetic and had remourse.
1:29pm IST: Masipa makes the example that even pregnant women - who are most vulnerable during this time, are sentenced to prison terms. The example instantly gets picked up in social media and YouTube channels broadcasting the sentencing live.
1:23pm IST: Masipa says that States expert witness was reliable and he honest and made concessions where necessary. Says, the prison was sufficiently equipped to support Pistorius. she further says, that the Dept of Correctional Sercises is equipped to deal with any medical issues that the accused may have. There are varieties of equipment and facilities to deal with any kind of problem.
1:21pm IST: Masipa said she was not convinced and was very disappointed by negatively biased evidence of expert witness.
1:20pm IST: Masipa now deals with the personal circumstances of the accused. That he is 27 years old, a double amputee and he has no income. She also describes the difficulty in moving he experienced during his childhood.
1: 15pm IST: Masipa recounts some of the evidence given by Reeva Steenkamp's cousin, which included Reeva's upbringing. She then moves on to the evidence given about the state of Correctional service centres where Oscar may be held.
1:11pm IST: Masipa now deals with Oscar's achievements as an athlete as well as all the charity work that he did during this time. Masipa now moves onto the evidence in aggravation led by the State
1: 09pm: Masipa looks at some of the recommendations made for Oscar's sentence. these recommendations included three years house arrest, 16 hours of community service served for 8 hours twice a month.
1: 02pm: Judge Masipa emphasises that the decision to sentence is hers alone despite the assistance of the assessors. Masipa recounts that finding an appropriate sentence is difficult as there may be more than one right sentence.
1:00pm : Judge Masipa asks Pistorius to remain seated. She states that the accused is found guilty of one count of culpable homicide.
Update 12:35pm IST: Large contingent of media fraternity has gathered in front of the Pretoria High court as the sentencing is expected to begin in less than half an hour. Steenkamp's and Pistorius family members are seen arriving at the court room
South African double amputee Olympic hero, Oscar Pistorius, will finally know what fate lies ahead for shooting dead his super-model girlfriend Reeva Steenkamp on the night of Valentine's Day 2013.

Having been found guilty of 'Culpable homicide', equal to manslaughter, the Olympic champion awaits his punishment on Tuesday when judge Thokezile Masipa of Pretoria high court will hand down a sentence to put an end to the 7-month-long trial.

The 27-year-old could be sentenced to years in prison, or he could be given a suspended sentence or even just a fine. He might, as well, just walk free for shooting Steenkamp multiple times through a locked toilet door in his home.

The South African law has no minimum sentence for culpable homicide and some experts are of the view that the athlete may walk free or may be kept under house arrest.

Prosecutors have demanded at least 10 years in prison for the double-amputee.

His defence lawyers have, however, argued that that Pistorius has already suffered enough humiliation and mental torture in the last 20 months after the incident, which has been no less than punishment in itself. They have suggested that the 27-year-old be given three years of correctional supervision, with periods of house arrest and community service.

Last week, the final sentencing hearing saw one of the most intense and dramatic arguments with both sides arguing the case based on their own interpretation of the verdict passed by judge Masipa last month.

Prosecutor showed no mercy to the fallen hero of South Africa, accusing him of using his disability as an excuse to evade jail. The defence, however, argued that the man has shown enough remorse and guilt for the inadvertent killing of his girlfriend.

Meanwhile, Pistorius' brother and sister, Carl and Aimee, gave interviews to a South African television on the eve of the final sentencing, describing what they said was a difficult and emotional journey for the athlete of more than a year-and-a-half since their brother killed Steenkamp.

"It has been a long journey to this point," Aimee Pistorius told eNCA. "A very taxing one. It is difficult to support someone through something like this – all the guilt and ridicule and obviously the exposure that has come with it."
Pistorius Trial Fact Box:

In her ruling Judge Masipa said that prosecutors had failed to prove an intent to kill when Pistorius fired four rounds of bullets through he locked door of a toilet cubicle.
Pistorius, who has often been compared to OJ Simpson of the United States, has always maintained that he mistook Steenkemp for a dangerous intruder.
Since there is no minimum sentence for culpable homicide in South Africa, there are statistical chances – although unlikely – that the blade runner will just walk free.