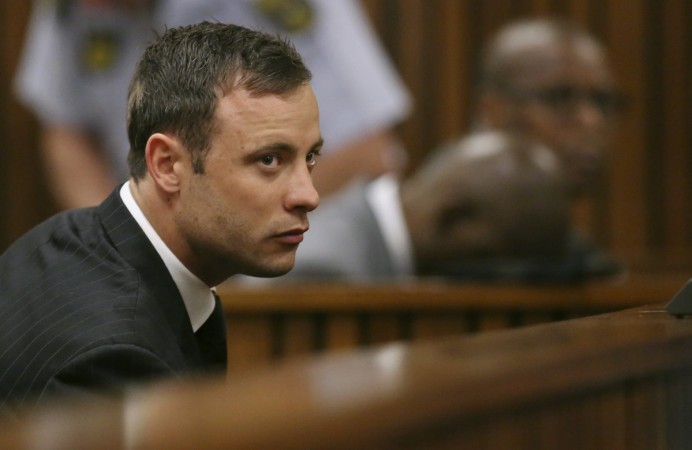 Update 4pm IST: The second witness who was interrogated on Tuesday was Annette Vergeer, a social worker and probation officer. In her report, Vergeer says Pistorius showed remorse and it appeared to be genuine, seemed heartbroken and got therapy.
Vergeer has had 28 years experience in working as a probation officer. She also says the report aims to assist the court in considering retribution, rehabilitation and the interests of society adding that it was highly unlikely that the accused will offend again.
She also says Pistorius' offer of a monthly payment to the victim's family and offer of compensation is indicative of his remorse.
Vergeer says Pistorius isn't such a danger to society that he should be removed from it.
Nel, however, points out that the judgement in fact contains a number of different versions
Update 1:20pm IST: Nel has interrogated Van Zyl. Nel pointed out that most sportsmen these days are involved in charities as a 'marketing tool'. Nel also asked about Van Zyle's email to Brian Webber where he 'blamed' the state for what has happened to Pistorius.
Nel points out in one email that Van Zyl had told Webber the state and the media were responsible for destroying Pistorius' opportunities. Van Zyl says there are still people out there who want Pistorius to share his story of inspiration and motivation "It was poor judgement on my part...poor judgement to include the state, I don't believe that" he says to which Nel replies: "I'm flabbergasted."
Oscar Pistorius returned to court on Tuesday for the second day of sentencing in the seven-month murder trial. The Paralympian, better known as "Blade Runner", was found guilty of the culpable homicide of his girlfriend Reeva Steenkamp last month.

He was found not guilty on the more serious charge of murder, escaping from the possible life sentence or 25 years in prison.

In South African law, there is no minimum sentence for culpable homicide – something that gave Pistorius' defence the ability to argue on Monday that he should be placed under house arrest and given community service.

Prosecutor Gerrie Nel, known for his aggressive approach, gave a glimpse of some of the trial's most dramatic moments on Monday during his cross-examination of the athlete.

A social worker at the Department of Correctional Services, Joel Maringa, recommended that Pistorius serve three years of house arrest while performing 16 hours of community service a month, including cleaning a museum.

But the prosecutor appeared absolutely baffled by the proposal calling it "shockingly inappropriate" and sought the maximum sentence of 15 years in prison for the Olympic champion.