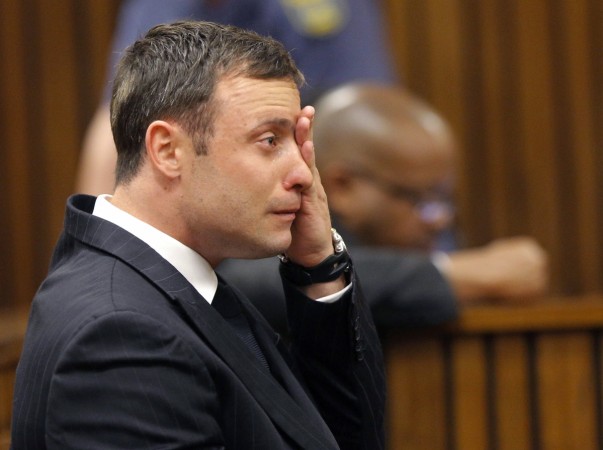 Even though he was able to avoid life sentence, Oscar Pistorius might soon have to face life inside South African prisons, which are known for their overcrowding and harsh conditions.
Judge Thokozile Masipa found Pistorius guilty of culpable homicide, after clearing him of murdering girlfriend Reeva Steenkamp on Valentine's Day last year.
Reading out the judgment, Judge Masipa told the court that there was not enough evidence to prove beyond reasonable doubt that the double amputee was guilty of premeditated murder or murder.
The court found Pistorius guilty on one firearms charge but acquitted him on two others.
While the sentencing of the case will take place only next month, The Week reported that the Olympian could face up to 15 years in jail for culpable homicide.
While convicting Pistorius on the lesser charge of culpable homicide, Judge Masipa accepted the athlete's defence that he mistook Steenkamp for an intruder.
However, the Judge noted that Pistorius was negligent when he fired four shots into the door of a toilet cubicle, where his 29-year-old girlfriend was.
An NBC News report noted that Pistorius might have to serve at least three years behind bars, or even a lengthy house arrest.
Meanwhile, according to the International Centre for Prison Studies, the conditions inside South African prisons are deplorable.
South Africa has a prison occupancy rate of 128 percent - the highest in the entire continent. The overall prison population in the country is stated to be around 1,57,394.
With the occupancy rate in the prisons so high, there has been situations where convicts have been locked up for 23 hours a day, with just one hour outside the cell. There has also been allegations of custodial torture, including electric shocks and forced injections.
There has also been a case where 88 people have been crammed together in a cell meant for 32 inmates. A Guardian report noted that the prisoners had to share one toilet and one shower, while the food given to them would always be covered in flies.
Scores of inmates have died in these cells due to lack of medical facilities as well, the report noted.