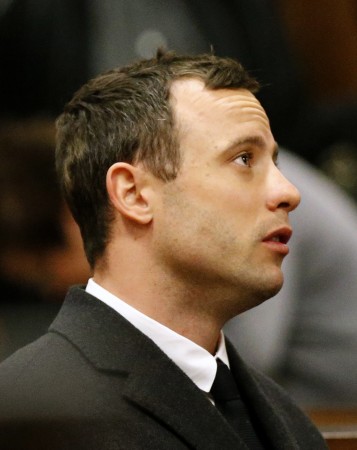 Oscar Pistorius was reportedly involved in an altercation with a local businessman in a night club in Johannesburg after the 'Blade Runner' made derogatory comments about his freinds and President Jacob Zuma's family.
Pistorius' altercation took place with businessman Jared Mortimer, who said the athlete was drunk, reports the Star newspaper.
There are conflicting reports on how exactly the row began. According to Pistorius' spokesperson, the argument took place after Mortimer started to "aggressively interrogate" him about his murder trial which is currently underway.
But Mortimer has blamed Pistorius for the incident. He said that the Paralympic gold medalist - who was drunk inside the nightclub in Johannesburg's upmarket suburb of Sandton - started insulting his friends and South African President Zuma's family, according to reports.
After being introduced by a individual called Guil Yahav - a bouncer-turned-professional poker player, the two started talking about the people they knew.
"He started talking about some of my friends and he said he had statements and evidence that would get my friends into trouble. But he wouldn't use it because he wasn't that kind of person. He was drunk, but not bad. We were drinking tequila and I still remember putting down my drink and thinking I couldn't drink it while my friends were being spoken of like that," Mortimer said.
The Johannesburg-based businessman also said that he did not like the way he was, at one point, insulting Zuma's family.
"I took that personally because I am very good friends with a member of the Zuma family," he was quoted as saying.
Mortimer added that Pistorius started poking him in his chest and was forceful while they were talking. The businessman said he then pushed Pistorius away, and the athlete fell over a chair.
The club's bouncers helped Pistorius get up but he was soon removed from the area after he "had confrontation with another man", Mortimer said.
However, Anneliese Burgess, a spokeswoman for Pistorius, has disputed the businessman's account.
"The individual... started to aggressively interrogate him on matters relating to the trial," BBC quoted Burgess as saying. She added that the athlete - who is accused in a murder trial in connection to shooting his girlfriend Reeva Steenkamp on Valentine's Day 2013 - regrets making the "decision to go to a public space and thereby inviting unwelcome attention".
This comes just a day after the Olumpic sprinter tweeted for the first time since the death of Steenkamp, posting a collage of pictures of his humanitarian work and an extract from Viktor Frankl's book 'Man's Search for Meaning'.
— Oscar Pistorius (@OscarPistorius) July 14, 2014
— Oscar Pistorius (@OscarPistorius) July 13, 2014
— Oscar Pistorius (@OscarPistorius) July 13, 2014
— Oscar Pistorius (@OscarPistorius) July 13, 2014