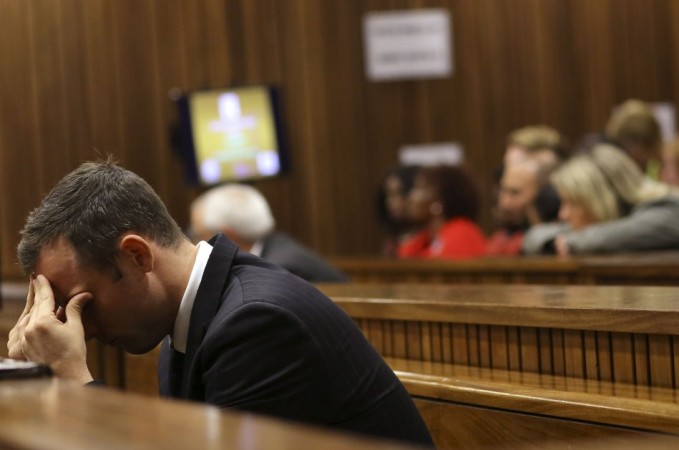 Oscar Pistorius is selling his sprawling Pretoria home to cover the increasing legal costs of his ongoing murder trial, his lawyer has said.
Estate agent Ansie Louw, who is handling the sale of the Silver Woods Estate property, said that the mansion would be sold in a closed bid, Independent.ie reported.
Although no price has been set, the agency expects to sell the mansion for no less than five million rand ($4, 59,040). Bidding for the house kicked off on Thursday and the house has already attracted interests from several buyers, according to reports.
The athlete was released on bail of one million rand in February last year and has been paying his own legal fees ever since he was arrested and charged with murder.
The highly anticipated trial of Pistorius, often referred to as the 'trial of the century', began earlier in March. The six-time sprint champion has pleaded not guilty to murdering his girlfriend.
The 27-year-old faces murder charges for shooting his girlfriend - the 29-year-old South African model Steenkamp - on Valantine's Day last year.
The double amputee, better known around the world as 'the blade runner,' has argued that Steenkamp's death was an accident, and that he had mistaken her for an intruder breaking into his house from the toilet.
The Judge in the Pretoria High Court has the daunting task of deciding whether Pistorius is saying the truth. The prosecutors have said that he knew Steenkamp was inside the bathroom and that he deliberately shot her.
The Paralympian has said that his decision to sell the house comes because of the unexpected" extension of his murder trial beyond the initial three-week period stipulated.
"Due to the delay in finalizing the trial, the decision to urgently dispose of his single biggest asset has had to be made," Pistorius' lawyer Brian Webber said in a statement.
"With the trial now already into its third week and as the prosecution is still leading evidence, it is clear that the legal process will last significantly longer than originally indicated by the state," he added.