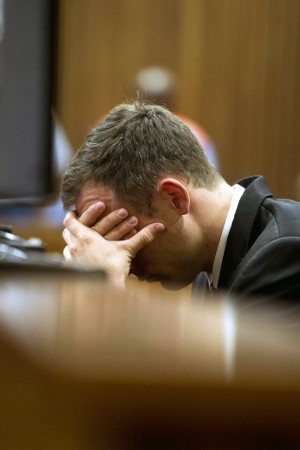 Oscar Pistorius will learn of his fate, in the alleged murder of his girlfriend Reeva Steenkamp, in a month.
Judge Thokozile Matilda Masipa will declare the verdict on 11 September and it could go several ways.
Pistorious shot Steenkamp to death on 14 February 2013. The prosecution has charged the paralympian with premeditated murder, for which he could get a prison term of at least 25 years.
However, Judge Masipa will hand such a ruling, only if she believes Pistorius had planned to kill Steenkamp.
In the 18-month long trial, the 27-year-old double-amputee has maintained that he did not know it was his girlfriend who he was shooting at. During the televised trail, Pistorius claimed that he believed it was an intruder on the other side of the bathroom door.
However, there seems to be many loopholes in the claim by Pistorius.
"Why, did Pistorius not find out who was in the toilet before firing four 9mm hollow-point rounds? And why did Reeva Steenkamp not let him know she was there?" South African magistrate Desmond Nair pointed out to Reuters.
Prosecutor Gerrie Nel, who also rubbished the claims made by Pistorius, told the North Gauteng High Court in Pretoria that the paralympian must have known it was Steenkamp behind the toilet door, not an intruder. And, even if Pistorius did not,'it was still a murder,' Nel stated.
If the judge finds Pistorius guilty of culpable homicide, that is if he convinces the judge he thought he was shooting at an intruder, the athlete still faces a 15-year prison term. Pistorius may be convicted of a lesser murder charge or negligent killing, both of which call for years in jail. But it will all depend on Judge Masipa's discretion.
The only way Pistorius can secure an acquittal, is if Judge Masipa believes he only made a tragic error.
Pistorius' claim that he thought Steenkamp was still in bed could help him avoid a murder conviction.
Barry Roux, the chief defence lawyer ,had argued that Pistorius' disability had made him vulnerable to crime over the years, according to Daily Mail. Roux compared the athlete to a victim of abuse, who kills an abuser after a long period of suffering.
His argument had rested on the fact that Pistorius had his lower legs amputated as a baby, and it was the fear that stemmed because of his disability that the athlete 'accidentally killed' his girlfriend.