"Oru Vadakkan Selfie" starring Nivin Pauly and newcomer Manjima Mohan has hit screens on Friday, 27 March. The movie has been directed by G Prajith and produced by Vinod Shornur.
The movie tells the story of a careless engineering student Umesh (Nivin Pauly), who has 42 subjects to clear. His close pals are Shaji (Aju Varghese) and Thankaprasad (Neeraj Madhav).
Umesh soon decides to make a short film and hopes that it will be his entry point to Mollywood. His dream is to work under famous South Indian filmmaker Gautham Menon and wants to direct Tamil star actor Ajith. Click Here to See OVS Movie Photos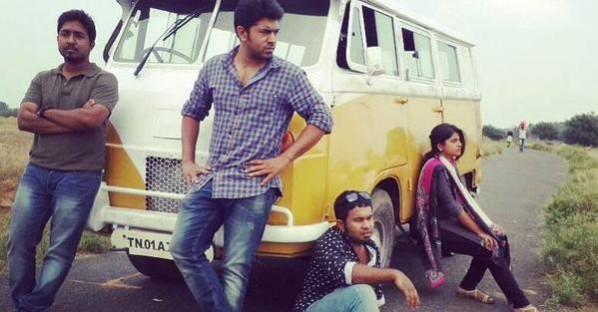 At this juncture, Daisy (Manjima) comes into the picture, the lives of Umesh, his two friends and Jack (Vineeth) change forever. The crux of the story is about the friendship of the trio set in Thalassery.
"Oru Vadakkan Selfie" marks the directorial debut of G Prajith, who has been working as an associate with Vineeth Sreenivasan. Incidentally, Sreenivasan has penned the story for the movie. Bhagath Manuel, Vijayaraghavan, Sreelakshmi, Santhosh Keezhattoor, Harikrishnan, Shravan, and others are in the cast. It has Shaan Rahman's music and Jomon T John's cinematography.
Also Read: 'Ennum Eppozhum' Review: Audience Live Update
The Malayalam movie has got decent reviews from the audience. People have said even though the story is not fresh, it has turned out to be a time-pass film. Below, we bring you the live reviews by the audience:
Movie Reviews Posted
#OruVadakkanSelfie #OVS (1/2) Interval Now 1st Half Not Upto The Expectation Avg One
#OruVadakkanSelfie #OVS (2/2) Some Comedies are Good Nothing New In The Story Line and Boring Screenplay Hope Second Half Will Rock!!
#OruVadakkanSelfie #ovs It's Over Avg Timepass Movie Nothing New. Avg Script and Ok Direction 2.25/5 Wait For Dvd
Cine Cafe Now Tweeted
#OVS #OruVadakkanSelfie review gets 3.25 / 5.0. Full of Comedy.
Anoop kumar V Posted
#OVS #OruVadakkanSelfie review gets 3.25 / 5.0. Full of Comedy. #NivinPauly #ManjimaMohan #AjuVarghees #VineethSreenivasan
AkshayNalendran Tweeted
There is a surprise for #Suriya fans in #OruVadakkanSelfie. #VaaranamAayiram train scene :D @DsynerGuru thanks kanna for the info
lyvmill Posted
#oruvadakkanselfie first day first show. 1st half polichu
BKN Wrote
Nivin's #OruVadakkanSelfie Full Comedy Entertainer Poor Script with Comedy make a Watchable Flick If u Looking For Entertainment Go For #OVS
Arjun Thottoli Wrote
#OruVadakkanSelfie - Kidus 3.7/5 . #vineeth used a Brilient way to rech the msg to Yuth ,#Nivin #Aju <3
Sanju Wrote
Watched #OruVadakkanSelfie ! An complete comedy entertainer ! Lot to laugh ! Nivin & Aju combo strikes again..A percect one time watch :))
Litty Simon Posted
A simple story of #OruVadakkanSelfie by Vineeth Sreenivasan