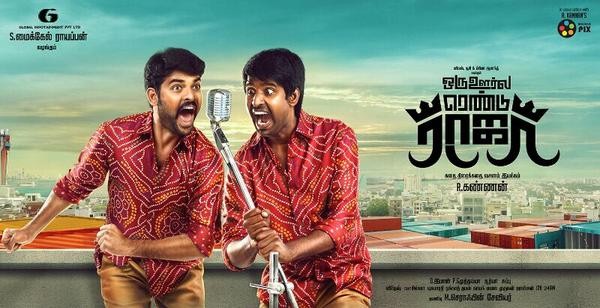 Vemal-Soori's "Oru Oorla Rendu Raja" (OORR) has received decent reviews from critics.
Directed by Kannan, "OORR" is a comedy entertainer with a social message. The film is based on a real-life incident and has Priya Anand as the female lead. The other cast members include Nassar, Thambi Ramaiah, Anupama Kumar, Singamuthu, while Vishaka Singh and Iniya make special appearances.
Kannan made an impressive debut with "Jayam Kondan." However, the director could not sustain it with films like "Kandein Kadhalai" and "Settai," both of which failed to set the cash registers ringing. Now, the director has come up with another comedy entertainer -- "Oru Oorla Rendu Raja" -- and one has to wait and watch if the film will be able to impress the audience.
Plot: Two youngsters (Vemal and Soori) from Tuticorin are on a trip to Chennai by train. They meet a beautiful young woman (Priya Anand), a doctor from Chennai, during their trip. They find out her life is in danger and decide to help her. What happens next forms the crux of the story. There is also a romantic track between Vemal and Priya.
Critics have stated that "OORR" is just regular commercial film aimed at mass audiences. While Soori provides the laughing moments, the other actors have done their parts well, said the critics. They have also given positive feedback on the technical aspects of the film.
Check below the review roundup of "OORR"
"OORR springs a surprise thanks to the social interest factor and the characterization of the lead heroine. Aside from that, it is a regular commercial fare targeted at the mass audiences. The run-time is crisp too !," according to Behindwoods Review Board.
Performances: "Vemal aces yet another rural-based role. Priya Anand shifts from peppy to determined to gritty to bold seamlessly, across the movie; not to forget hot in the song sequences. Soori is the show stealer and has made maximum use of this meaty role. He shares almost equal space with Vemal and gives his best," according to Galatta.
"Vishakha Singh has a neat cameo and impresses in her role as Kalpana. Nasser and Anupama Kumar impress in their roles," the website stated.
Technical Aspects: "Cinematography by PG.Muthaih is neat, except for the overdose of aerial shots. The songs have been shot with a lot of colors which make them visually appealing, especially Mazhakaatha and Sundari Penne. Editing is decent at just over 2 hours, as pulling the film anymore would have made it a drag. Imman's work in OORR is on the positive side, helping the film with both the songs and the BGM," said Siddarth Srinivas of Cinemalead.
Direction and Screenplay: "There's no doubt on Kannan's ability on penning a story, but, his screenplay had let him down big time. Talk about screenplay, an intro song for Vemal & Soori – Check. Force an unnatural comic episode to convince the audience that there is actually some logic – Check. A sentiment scene to create a love angle between the lead pair – Check. And, the list just goes on and on till the interval, and it keeps continuing after the interval as well," said Indiaglitz.
Verdict: Works only in Parts