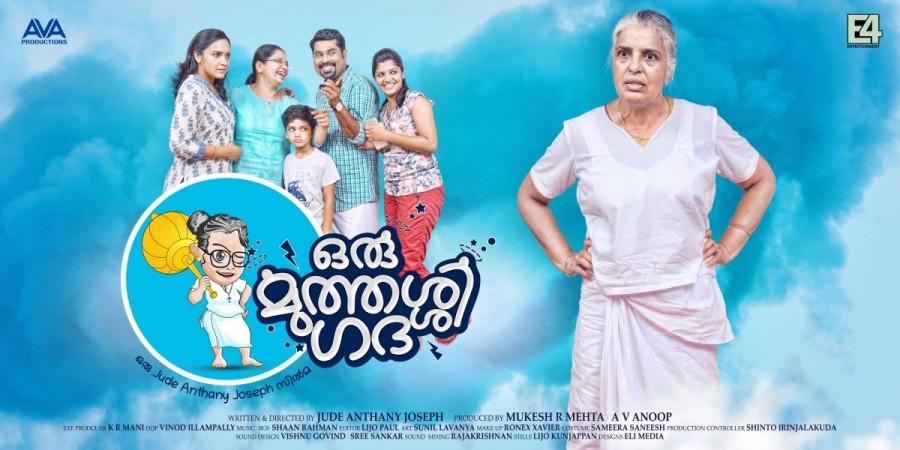 Jude Anthany Joseph, who made his directorial debut with Nivin Pauly-starrer "Ohm Shanthi Oshaana," is back with his second outing, "Oru Muthassi Gada." The Malayalam movie features Rajini Chandy, Vineeth Sreenivasan, Aparna Balamurali, Namitha Pramod, Aju Varghese, Renji Panicker, Rajeev Pillai and others in the cast.
The movie has Vinod Ellamppilly's cinematography and Lijo Paul's editing. Shaan Rahman has composed the music, which has turned out to be one of the plus points of "Oru Muthassi Gadha."
"Oru Muthassi Gadha" is a complete family entertainer that primarily deals with two grannies Leelamma (Rajini Chandy) and Susamma (dubbing artist Bhagyalakshmi). It also presents the conflicts between the old and new generations.
Leelamma stays with her son (Suraj Venjaramood), daughter-in-law (Lena) and two grandchildren. She is known for her carefree attitude and short-temper. People call her 'rowdy' for her quarrelsome behaviour. Even at her home, she creates troubles for her family members. At a crucial juncture, the family members go on a trip, leaving her with another old woman, Susamma.
What happens when two grannies come together and the real reason behind Leelamma's unpleasant behaviour forms the rest of the story.
Reviews:
"Oru Muthassi Gada" has opened to fairly positive reviews. The performance of the actors and good content have been praised by the audience. Below, we bring to you the viewers' response to the Malayalam movie:
Rockstar: #OruMuthassiGadha - Title card idea was a cool one. Some good counters are scattered here & there. Other actors also performed well.
#OruMuthassiGadha - Ok first half followed by an average second half..Muthassi's acting didn't connected to audience ! Totally just avg.
#OruMuthassiGadha - Watchable first half...Film is fully aimed for families
PS Arjun: As #OruMuthassiGadha progressed I found myself being really pull into the story, living it together with the characters. Splendid filmmaking
Rekhs: All grandmas/45+ ladies worldwide can relate 2 dis like #autograph everyone has done his/her bit to perfection #Orumuthassigadha Onam Treat
#Orumuthassigadha @shaanrahman Your RR and the difference you have shown 1st half and 2nd half shows incredible maturity!
#Orumuthassigadha can very well be counted as a pearl in your casket of films @e4echennai @cvsarathi @Vineeth_Sree @rmurali2012 Must watch
aparna u can take a bow dear for doing 2 roles and pulling it off with = elan #Orumuthassigadha @Sethumadhavan @pudiharicharan @SathishMSK
jude has dome a remarkble job, so many layers n nuances, entertainer all the way, hats off to the prod and dir
film to be cherished, songs are so melodious, it is an 'autograph' of a different kind! Mallu films think ahead