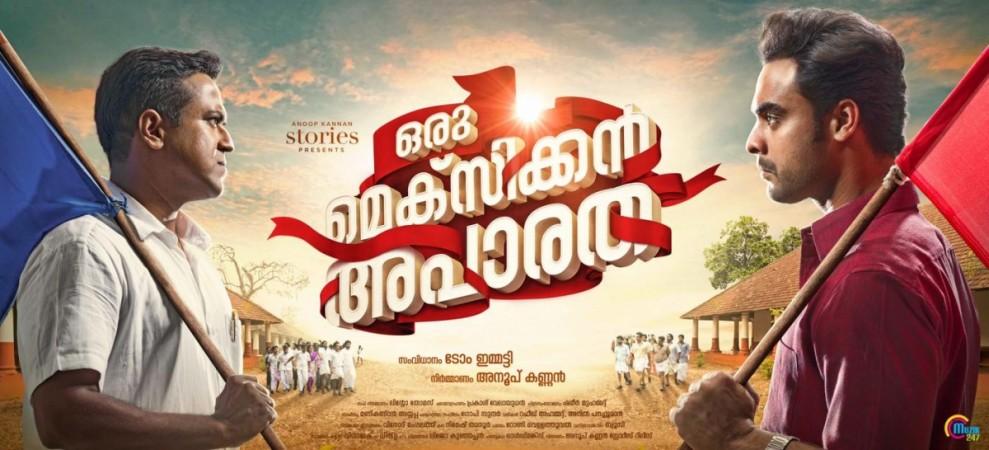 Mollywood is awaiting the release of some promising movies, and three of them -- Tovino Thomas' Oru Mexican Aparatha (OMA), Nivin Pauly's Sakhavu and Dulquer Salmaan's Comrade in America -- are narrated in the backdrop of politics, with them veering towards Leftism (read Communist Party of India - Marxist).
Does Mollywood have a strong inclination towards Leftism?
And the result? Numerous hate messages have been flooding the Facebook pages of these movies and actors, with supporters of different parties mixing politics with the theme of these movies. Why? Cine-goers, especially the people who believe in strong political ideologies, often fail to realise that every movie is a creative work, even if they are based on real-life stories.
When young actor Tovino was warned by a few netizens for playing a communist in the Tom Emmatty directorial OMA, he reminded them of his role as Akhilesh, who was a supporter of Congress party in the Dulquer Salmaan-starrer ABCD. "I am not against any party or any religion! I am not supporting anyone too! I am a free soul!," he had then responded to the statements of the haters.
Watch OMA Trailer || teaser
Now, when actor Roopesh Peethambaran, who plays an antagonist in the upcoming movie OMA, shared his poster from the movie, a social media user commented on it saying "you will be finished if a drop of blood falls on any SFI supporter." Interestingly, the actor replied that "he will send his address to finish him."
Later, Roopesh shared the screenshot of the conversation and requested movie-goers not to mix cinema and politics. "When I say don't mix politics and cinema, this is what I mean!!! Shame on these kind of people who do stunts to get attention!!," he posted on his social media account.
When International Business Times, India, asked for his comment on the matter, he emphasised: "I do not belong to any political party. I only believe in cinema." Roopesh, who made his debut as a child artiste in Spadikam, also adds that he will explain these facts personally to people, who still do not understand his point.
I see loads of political based arguments happening under this post which is uncalled !! From my point I saw one person taking a political dig at me.. which I replied according to my non political sense!! did I do this for publicity?? I don't think there is a need for that. I don't have to explain anything to anyone any more.. period!! :)"
Meanwhile, the trailer, teaser and the songs of OMA have been well accepted by the audience, and the campus entertainer is scheduled to hit screens on March 3.