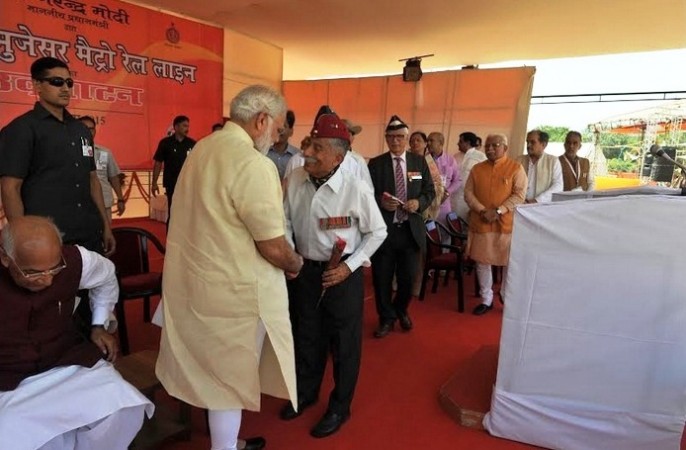 Prime Minister Narendra Modi on Sunday said his government approved the implementation of One Rank One Pension (OROP) scheme for armed forces' veterans which was not cleared for more than 40 years.
At a rally in Haryana city Faridabad in the national capital region (NCR) after inaugurating the extension of a Delhi Metro Rail line, Modi said: "Those who didn't do anything for 40 years have no right to speak on behalf of jawans."
He said his government examined how much the OROP scheme would cost the exchequer and found out that it would be between Rs 8,000 crore and Rs 10,000 crore.
He criticised the Congress and other previous governments for not doing anything in this regard even though the demand was pending for the 42 years. He said his government began working on the issue since it assumed office in May 2014.
Earlier, the prime minister took a Metro Rail ride from Delhi's Janpath station to Bata Chowk station in Faridabad.
Ex-servicemen's strike over OROP to continue
Meanwhile, the agitating servicemen on Sunday confirmed that they would continue their protests over the OROP scheme as the government did not accept all their demands. They, however, announced the withdrawal of their hunger strike.
Welcoming the government's decision to implement the OROP scheme, the military veterans said they were withdrawing the hunger strike, but would continue their protest till all the "sticky" issues were resolved, PTI reported.
Major General Satbir Singh (retired), who has been heading the veterans' campaign, said even though the government accepted the implementation of OROP on Saturday, they would continue the agitation as the government had to do more in this regard.
"The agitation will continue. We will intensify it further," he told the media at Jantar Manta, adding that not much money was required to fulfil their remaining demands. "Only Rs 30 crore would be needed," he said.
The ex-servicemen would now organise a nationwide rally on September 12, Maj Gen Singh said.
- With IANS inputs