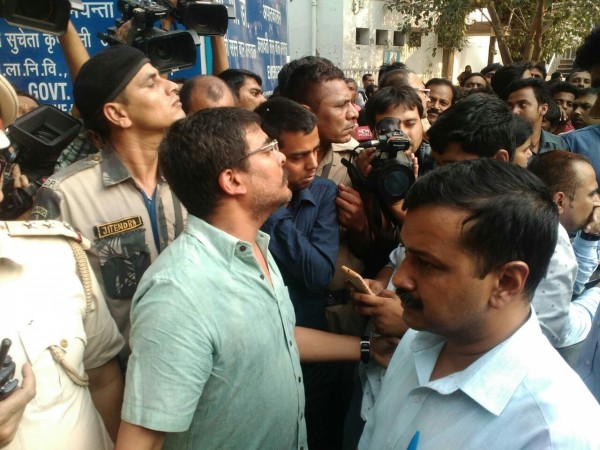 1:08 pm -- The Delhi government has announced a compensation of Rs 1 crore to the kin of Grewal.
12:41 pm -- "No harm in letting anyone meet the family of the victim(ex-serviceman), Police should have managed it in a better way, says Satyapal Singh, BJP MP.
I think Delhi Police should have handled the situation better, they completely mishandled it."
12:09 pm -- Kejriwal reaches Bhiwani for ex-serviceman Grewal's funeral.
11:53 am -- Detention of Rahul Gandhi and Delhi CM Arvind Kejriwal to be looked into.
We have asked for a report (on Rahul Gandhi, Delhi CM, & Del Dy CM's detention) from Delhi Police," says Hansraj Ahir, minister of state, home affairs.
11:45 am -- Krishan Lal Panwar, the transport minister of Haryana, has announced Rs 10 lakh compensation to the Grewal family and assured a job to one family member, according to ANI.
11:40 am -- Last rites of Grewal being carried out.
11:35 am -- Congress leader Deependra Hooda talks to the media. " UPA had passed OROP that the Army sought, BJP diluted the provisions," he said
11:10 am -- Rahul is accompanied by top Congress leaders. Heavy security outside village.
10:42 am -- Congress vice president Rahul Gandhi reaches residence of Ram Kishan Grewal in Bhiwani, Haryana.
10:10 am -- "I don't mind being in police custody, but why did police take his family in custody. Jo ahankar Cong ko leke dooba tha, inko (BJP) bhi wahi leke doobega. [The pride that brought Congress down will also bring down BJP]," said Arvind Kejriwal.
10: 05 am -- "In 1973 Indira Gandhi ji did away with #OROP, Rajiv Gandhi did nothing, Narsimha Rao did nothing," said Nalin Kohli, BJP spokesperson. "UPA did nothing and Rahul Gandhi was unaware of it until when Modi ji implemented OROP," he said.
10.00 am --
7.30 am -- Trinamool Congress leader (TMC) Derek O'Brien visited Grewal's family early on Thursday morning.
"If Rahul Gandhi or Mr. Kejriwal wanted to meet the family they should have been allowed," said O'Brien. He further added that Grewal's family shouldn't have been manhandled. "Double grieving happening here - one for their loss, other for what happened yesterday."
Priyanka Gandhi's husband and businessman Robert Vadra said, "Saddened to learn of the suicide of ex-serviceman Ram Kishan Grewal. Being so desperate to end his life, and further the family being detained by authorities, and not being able to complete the last rights, really needs to be probed. We really need to care for our soldiers, who unconditionally keep us safe, at all times."
Another Congress politician from Haryana Deepender Singh Hooda also arrived at ex-serviceman Ram Kishan Grewal's residence in Bhiwani, Haryana.
Top politicians reached out to army veteran Ram Kishan Grewal's family in Haryana, where his funeral will be held on Thursday. Grewal, a retired subedar, had committed suicide due to frustration with his pension, which hardly increased despite the One Rank One Pension (OROP) scheme.
Congress vice president Rahul Gandhi and Delhi Chief Minister Arvind Kejriwal, who were temporarily detained after they tried to enter the RML hospital, where Grewal was brought after the suicide on Wednesday, said that they will head to Bhiwani on Thursday.
Grewal had committed suicide after consuming poison on the lawns of a government building Delhi. He was brought to RML hospital, where he died. Later, he was taken to Lady Hardinge Hospital, where a postmortem was conducted.