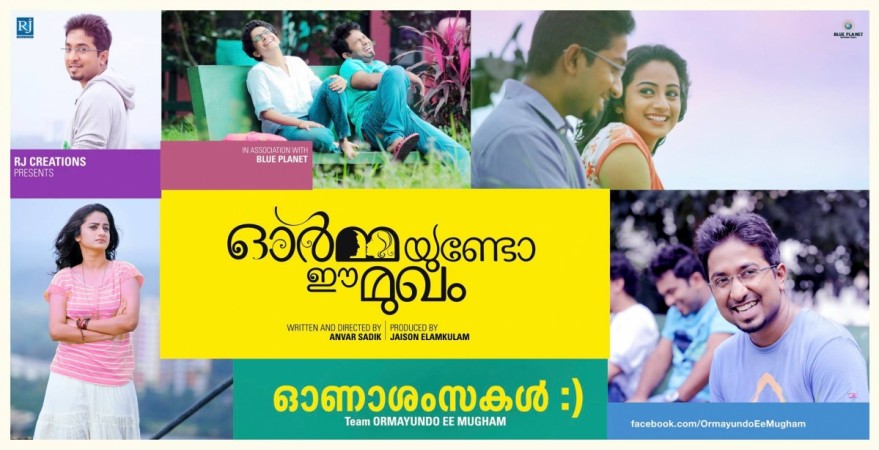 The latest release "Ormayundo Ee Mugham" starring Vineeth Sreenivasan and Namitha Pramod in the lead has opened in theatres to positive reviews from critics. The movie, which was released on 14 November is directed by debutant Anvar Sadik.
Most of the critics have appreciated the director for his impressive debut and the performance of the actors. The movie's technical aspects are reviewed as one of the best of this season. The cinematography by Jithu Damodar, editing by Johnkutty and music by Shaan Rahman received positive response from almost all leading film based websites.
Meanwhile, Vineeth thanked everyone viewers for their positive responses.
"Thank u people.. for all the msges and reviews on 'Ormayundo Ee Mugham'.. Humbled by all the appreciation.. thank you Anvar Sadik, Jaison chetta for making me a part of this film.. my love to the entire team.. thank you Shaan... thanks to everyone who went and watched the movie first day itself.. God has been kind to us.. A beautiful day!!," wrote Vineeth on his Facebook page
"Ormayundo Ee Mugham" also has an impressive list of actors, including Aju Varghese, Soumya, Sadhanandan, Rohini, Mukhesh, Lakshmi, Mukta and Idavela Babu in pivotal roles. The movie is produced by Jaison Elamgulam under the banner of RJ Creations.
Here are the reviews of "Ormayundo Ee Mugham" by various critics.
"The nice, simple and romantic movie delivers a full time entertainment without any thrilling moments or action sequences. The way the film continues its story is interesting to watch with some class comedies and awesome romantic scenes supported by nice songs, giving a pleasant feel to watch." – Muyals.com
"The real show stealer was the romantic pair Vineeth sreenivasan and Namitha with a mind blowing chemistry and cute performance. Shan Rahman's music was just beautiful and Jithu Damodar's DOP was perfect for the film. The newcomer Anvar had done a terrific job as a writer and director and all in all this film has become a very good entertainer for all kind of spectators." – Onlookersmedia.in
"Love stories that adhere to normal patterns need something remarkably novel to rouse interest.Musical love stories used to dominate our screens until new narrative modes started to be in vogue. Anwar Sadik's 'Ormayundo ee mukham', strives to endear itself to the lovers of simple love stories that may or may not have a happy ending. And it ticks most boxes when it comes to predictability and in that process fails to provide anything new. It is as if the makers were particular that it should not rise above the ordinary." – Metromatinee.com
"Debutante director Anvar Sadik's Ormayundo Ee Mukham, with an inspired-from-many-romantic-comedies plot, is a feel good candyfloss love story. However, because it's too beautiful, the movie, at major parts, lacks the possible-in-reality tag. Despite the clichés, one is forced to admit that the movie has its moments - the ones in which Gautham tries to make himself last in Nithya's memory for more than a day, and the lead pair's attempts to impress the family are enjoyable." – Behindwoods.com