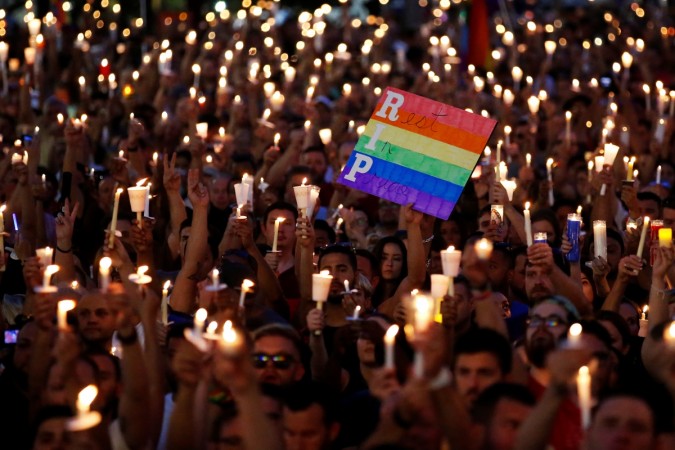 Chris Murphy, U.S. Democratic Senator, staged a filibuster on Wednesday that lasted for over 14 hours to demand a vote on the legislation for gun control after gunman Omar Mateen killed 49 people and injured 53 in an attack on a gay nightclub in Orlando, Florida, on Sunday.
According to a BBC report, Murphy spoke from Wednesday into Thursday in the filibuster — a tactic that makes it possible for senators to block proceedings.
"I am prepared to stand on the Senate floor and talk about the need to prevent gun violence for as long as I can. I've had #Enough, [sic]" Murphy said in a tweet. He began the filibuster on Wednesday at 11:21 a.m. and vowed to continue speaking "until we get some signal... that we can come together".
USA Today reported that Murphy and other Democratic senators, for nearly 15 hours, urged the Senate to bring gun control measures, despite there being no certainty that they would be passed.
According to the USA Today report, Murphy talked about mass shootings that have happened in the past and called for background checks of gun buyers. He also wanted a ban on sale of guns to suspected terrorists.
He was disappointed at the Congress' failure to introduce gun control measures, and also talked about the mass shooting that claimed 26 lives at Sandy Hook Elementary in his hometown Connecticut in 2012.
"I can't tell you how hard it is to look into the eyes of the families of those little boys and girls who were killed in Sandy Hook and tell them that almost four years later, we've done nothing, nothing at all to reduce the likelihood that that will happen again to another family," Murphy was quoted by USA Today as saying.
"For those of us that represent Connecticut, the failure of this body to do anything, anything at all in the face of that continued slaughter isn't just painful to us, it's unconscionable," BBC quoted him as saying.
Later, he said in a series of tweets: "I am proud to announce that after 14+ hours on the floor, we will have a vote on closing the terror gap & universal background checks... This is one step. The fight is far from over. But there are millions of voices calling for change. And we cannot stop pushing #Enough. [sic]"