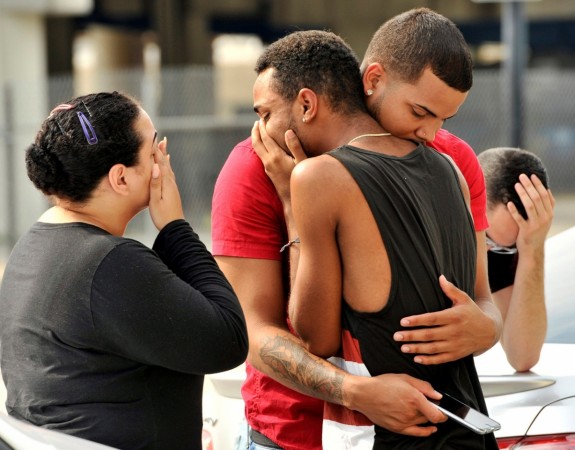 The Islamic State group, also known as ISIS, on Sunday claimed responsibility for the attack on a gay nightclub in Orlando, Florida, in which around 50 people were killed and 53 injured, making it the worst mass shooting in the history of the U.S. But, according to U.S. officials, there is no evidence that directly link ISIS or any other militant organisation to Sunday's massacre.
"The armed attack that targeted a gay night club in the city of Orlando in the American state of Florida which left over 100 people dead or injured was carried out by an Islamic State fighter," Reuters quoted from a statement by Amaq, the militant group's news agency.
The gunman, identified as Omar Mateen, is a Florida resident. He is born to Afghan immigrants and is suspected to be a supporter of ISIS, a senior official of the Federal Bureau of Investigation (FBI) was quoted by Reuters as saying. He added that Mateen's link to the radical Islamist group needs to be investigated.
When asked about the call Mateen had made to 911, a U.S. counter-terrorism official was quoted by Reuters as saying there is "no evidence yet that this was directed or connected to ISIS. So far as we know at this time, his first direct contact was a pledge of bayat (loyalty) he made during the massacre."
"The fact that a website connected to Daesh applauded it doesn't mean anything... They are losing on their home turf, and it's not surprising if they're looking for some kind of twisted victory," a U.S. intelligence official, who used a local name for ISIS, was quoted by Reuters as saying.
According to the Telegraph, ISIS called Mateen a "soldier of the caliphate" in a radio bulletin. It is still not clear whether the shooting in Orlando was approved by ISIS. But the militant group last month had encouraged its followers worldwide to carry out attacks in the organisation's name.
"The smallest action you do in their heartland is better and more enduring to us than what you would if you were with us. If one of you hoped to reach the Islamic State, we wish we were in your place to punish the Crusaders day and night," Reuters quoted from the audio clip whose authenticity could not be verified.