First test flight of Orion, NASA's next-generation spacecraft capable of sending astronauts deep into space, was postponed for 24 hours after multiple attempts to launch was thwarted by natural and technical issues. Orion is now scheduled to be launched at 5.35 pm (IST) on 5 December, Friday, but can take any time up to 8.14 pm (IST).
10.05 pm (IST): "Orion's maiden flight from start to finish was picture perfect," says NASA, "The most perfect flight you can ever imagine."
10.00 pm (IST): Splashdown! Orion completes a critical step on our Journey to Mars. Orion traveled 60,000 miles farther into space than any ship for humans has gone in over 40 years.
9.56 pm (IST): Parachutes have been dispacthed. The three parachutes slowing Orion for splashdown would nearly cover an entire football field.
9.54 pm (IST): Orion is now travelling sub-sonically.
9.53 pm (IST): Signal re-acquired!
9.51 pm (IST): Now Orion goes quiet due to "loss of telemetry" in the extreme conditions of re-entry. It's one of the tensest times of any mission. Mission controllers can only wait and hope that the craft survives.
9.50 pm (IST): Coming home! #Orion has reached Earth's atmosphere at speeds of 20,000 mph (32,000 kph)
9.48 pm (IST): Orion is 3 minutes away from entry interface when Orion first encounters the atmosphere.
9.43 pm (IST): Orion is now 400 miles above the earth. Range to splashdown 2600 miles. Around 9.48 pm (IST), Orion's heatshield will be put to the test of temperatures twice as hot as molten lava.
9.33 pm (IST): The "raise burn" of the thrusters has completed, orienting Orion for re-entry. There's going to be complex choreography of parachute releases at precise points during the descent so that Orion slows down just enough.
8.59 pm (IST): Good separation from service module & second stage. Orion is accelerating towards earth picking up speed. It will be traveling at 20,000 when it enters the atmosphere in hour. Splashdown location will be 275 miles west of Baja, California.
8.54 pm (IST): Orion flag is raised over #NASAJohnson in the midst of a historic mission.
8.24 pm (IST): AS Orion crosses 3,000-miles in altitude, the Navy and NASA recovery teams off the coast of California have deployed from the U.S.S. Anchorage and U.S.N.S . Salvor in two 7-meter boats and two 11-meter boats while they wait for the spacecraft to return and splash down in the Pacific.
8.12 pm (IST): Two and half hours into the flight, 2,744 miles above the Earth and 900 miles from peak altitude.
8.08 pm (IST): The flight test cameras are back on and functioning normally, sending out more images of the Earth.
7.58 pm (IST): US Navy ships that will help recover Orion have deployed near splashdown site.
7.47 pm (IST): Orion's cameras are turned off as it enters intense radiation of the lower Van Allen Belt. "Everything going perfectly on the maiden flight of Orion," reports NASA TV commentator Rob Navias.
7.36 pm (IST): Second engine cutoff. Orion is now climbing to a peak altitude of 3,609 miles (5808 km) away from Earth. Burn was "perfect." Heading toward peak altitude.
7.32 pm (IST): 1 hour 55 minutes into Orion flight. Second engine burn successful. 4 minutes remain in burn.The re-ignition burn of the Delta IV Heavy upperstage begins, pushing Orion up out of low Earth orbit. It will reach 3,600 miles altitude, further than any person-rated capsule since the final Apollo 17 moon flight in December 1972.
7.25 pm (IST): Orion cruising comfortably through space. Orion's telemetry shows all systems working well on NASA's newest spacecraft designed for astronauts. The next major stages in the flight test will begin with the re-ignition of the second stage engine.
7.00 pm (IST): Orion is in its 1st lap of Earth. and 30 minutes away from the next engine burn.
6.52 pm (IST): The Orion capsule and the attached Delta IV upper stage rocket are now over the southern Pacific. It is currently downlinking video from the on-board test cameras. Some of this footage may be released this afternoon.
If you missed the launch of Orion, watch it in NASA Kennedy YouTube Channel.
5.56 pm (IST): Orion is in its preliminary orbit! The Delta IV Heavy second stage provides its attitude control & propulsion.
5.55 pm (IST): 18 minutes into flight second engine cut-off successful. It will be fired again in about 90 minutes to boost Orion to 3600 miles.
5.50 pm (IST): Orion travelling at 16,000 miles per hour.
5.42 pm (IST): Main engine has cut off. First stage has separated. Second stage has ignited. First 2 test objectives successful.
5.35 pm (IST): Orion takes off. The NASA news generation spacecrafts is heading into orbit on the brilliant fire and power of the United Launch Alliance Delta IV Heavy rocket.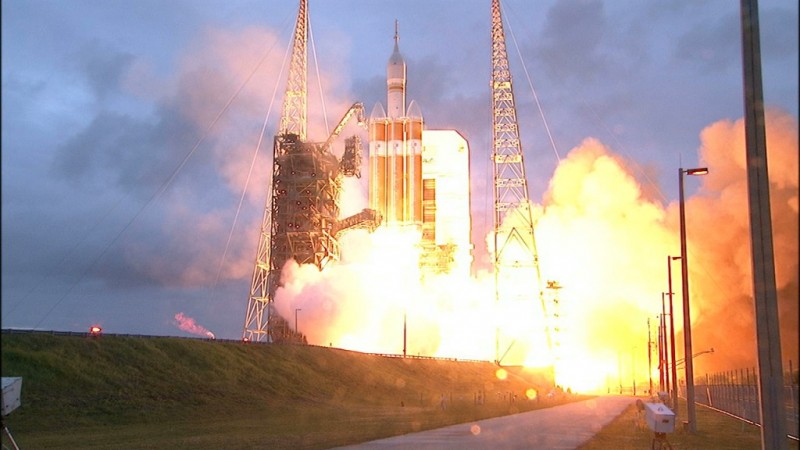 5.31 pm (IST): Terminal countdown begins. Four Minutes to launch time.
5.29 pm (IST): Orion gets cleared to launch at 5.35 pm (IST).
5.27 pm (IST): Orion is going to internal power. Flight computers updated with wind info. 8 min to launch.
5.17 pm (IST): Terminal Countdown to begin in 15 minutes after final go/no-go poll for lift-off.
5.10 pm (IST): Weather conditions at launch site are green. The launch team remains on track for a liftoff at 5.35 pm (IST).
4.54 pm (IST): All go for launch and working no issues; liftoff at 5.35 pm (IST)
4.32 pm (IST): The weather conditions seem to have deteriorated since yesterday and forecasters have trained their sights on a rain system coming up from the south. The official forecast calls for a 40 percent chance of acceptable conditions today. Controllers also continue to monitor the fill-and-drain valves on the Delta IV Heavy following problems that developed late in the countdown Thursday.
5.04 pm (IST): NASA Administrator Charles Bolden says "It's a big day for me, and exciting day for space and, driving up the causeway, looking at all the cars, I think this is a big day for everyone," as he followed the progress of today's countdown for the Orion Flight Test..
4.30 pm (IST): NASA starts LIVE COVERAGE of Orion launch on NASA TV. Also watch it live at IBtimes "Take Two of NASA's Orion Spacecraft Launch".
2.30 pm (IST): Delta IV Heavy rocket gets filled with liquid hydrogen + oxygen (fuel) for a launch attempt today at 5.35 pm (IST).
Thursday's launch attempt had to be scrubbed after a series of hindrances from increasing speed of the wind, presence of a boat near the launch area and some issues with the fill and drain valves.
During its first trip, Exploration Flight Test-1, Orion will orbit Earth twice and travel to a distance of 3,600 miles into space, before splashing into the Pacific Ocean off Baja, California.
The flight is designed to test most vital elements for human spaceflight and will provide critical data needed to improve Orion's design and reduce risks during its future missions, which include sending astronauts to the moon in 2020s and to Mars in the 2030s.
More information about Orion's flight test is available at NASA website.
The "raise burn" of the thrusters has completed, orienting Orion for re-entry.