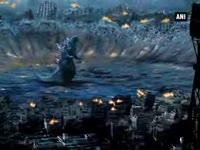 "Godzilla" is going to be back in 2016 and this time, it's going to rise from its birth land – Japan.
After the success of the 2014 version of a mutant, fire-breathing Godzilla, Japan's Toho Studio announced on Monday that it was going to release the 28th Godzilla film. It last released a sequel to the 60-year-old film franchise in 2004.
Toho Studios shelved the Godzilla series after its 2004 movie got a cold reception from the audience. But this time, along with the movie's announcement, Toho also declared the formation of Godzilla Strategic Conference – a Godzilla promoting board of associates and executives who will ensure that the Godzilla brand remains relevant through any way possible, according to The Hollywood Reporter.
Toho studios will also erect a Godzilla statue in the premises of its Toho Cinemas Shinjuku theater by coming April, Variety reports.
Though the studio announced that it will be releasing a Godzilla movie in 2016, it hasn't chosen a director yet. It also didn't say if the movie will use the hi-tech computer graphics it generally uses in its sci-fi movies but asserted that the technological advancements were one of the reasons why it wanted to revive Godzilla, The Associated Press reported.
Godzilla, or "Gojira" is a mutated cross between a whale and a Gorilla, which emerged from the Pacific Ocean after a series of nuclear tests in deep waters. It first stomped the earth in 1954. Several versions and stories have been spun around the emergence of Godzilla. But over the years, the monster lost it charm with dwindling number of fans.
The 2014 version - the Hollywood movie directed by Gareth Edwards – was however liked by many. Gareth's Godzilla roar was also appreciated by purist fans. The movie grossed $524 million worldwide.
Edwards is all set to release a sequel to the 2014 version in June 2018. Legendary Studios and Warner Bros. will be producing the movie again.