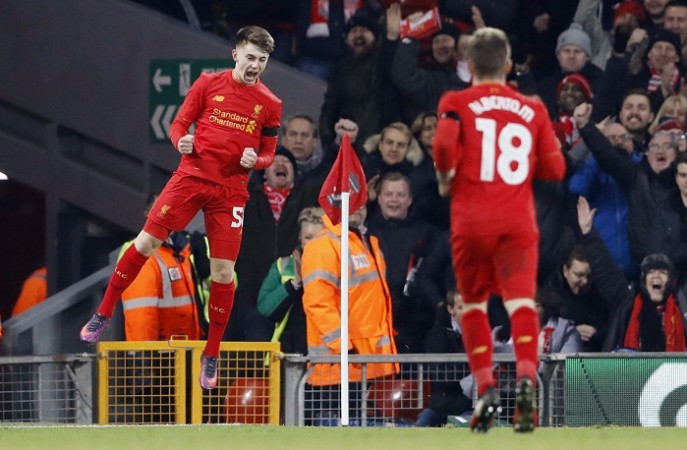 Liverpool have reached the semifinals of the EFL Cup, earlier known as the League Cup, defeating Leeds United 2-0 at Anfield, with Divock Origi and Ben Woodburn scoring the goals for the home side on Tuesday. The other quarterfinals match featuring Hull City and Newcastle United was much more interesting, as the former emerged victorious in penalties.
The Reds, as expected, provided rest to some of their players while Liverpool manager Jurgen Klopp was forced into making some huge changes as most of their offensive players are injured. Liverpool, who have been a hugely entertaining side this season, did not get their ball rolling in the first half, which led to some dodgy football from both sides.
Liverpool were, for sure, missing their creative players like Roberto Firnimo and Philippe Coutinho, who have both been exceptional this season.
With the first half ending in 0-0, both teams were desperate to break the deadlock in the second half. After some relentless pressure, Liverpool finally managed to score the first goal of the match as Origi found the back of the net after a delightful ball was played from the right flank by right-back Trent Alexander-Arnold.
Five minutes later, Liverpool doubled their lead with Woodburn scoring his first Liverpool goal, which was a historic occasion. The forward, who came in as a substitute, also became Liverpool's youngest goal scorer with that close range finish in the 81st minute. With that goal, Liverpool had the game in the bag.
The other match was much more entertaining and saw a close fight between Newcastle United and Hull City, with the latter managing an impressive win in the penalties. The first 90 minutes led to 0-0 scoreline despite some chances for both teams to score a goal. Hull CIty's Dieumerci Mbokani was also shown a red card in the 89th minute.
With the game going to extra time, it was an interesting additional 30 minutes, with Newcastle United taking the lead in the 98th minute, which was immediately cancelled by Robert Snodgrass in the next minute to make it 1-1. Hull City won the match 3-1 in penalties, with Newcastle United missing three of those, to be knocked out of the competition.
This was a great moment for Hull, who booked their first EFL Cup semifinals spot.