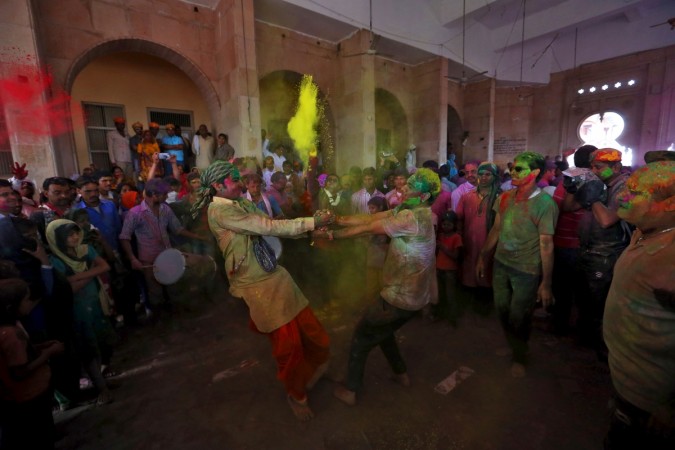 Not just the environmentalists, India's leading healthcare service providers are also pushing for an organic or eco-friendly Holi. Holi — the festival of colours — would be celebrated across the country Wednesday. Over the past few years, activists and non-profit organisations have campaigned to celebrate Holi in a way that is not harmful to people's health or the environment.
The health experts stress on making organic colours from kitchen ingredients for preventing hazards to skin and eyes.
Apollo group of hospitals has initiated a social media campaign, which is aimed at motivating people on creating natural colours, which are harmless to the skin as well as the environment.
Apollo Life, the wellness arm of the Apollo Hospitals has roped in women who advise against playing Holi with synthetic colours.
Anju Podde, a housemaker wrote on a blog for Apollo Life, the festival of colours was traditionally celebrated with rose petals and tuberoses in India, a practice still common in Vrindavan city of India.
But the tradition has been replaced with toxic and synthetic colours, easily available in the market, she said.
"These chemicals, made from substances like industrial dyes are not only a health hazard, but also contribute to significant amount of pollution of local water resources," she said.
Anju has come up with a novel idea of using turmeric, sandalwood, henna, mustard oil for making various dry natural colours.
She said flowers like marigold, yellow chrysanthemum and various leaves like spinach can also be used to make natural Holi colours.
Various consumer healthcare companies, meanwhile, have also brought out their range of products, which they claim are natural colours and will not cause health hazards.
According to the website of Forestica, a green e-commerce portal, it would sell organic colours this Holi at 25 percent discount.
The site of Omved, a herbal products company, mentioned that its range of herbal colours available are made in the traditional way by drying and crushing herbs like henna, spices like turmeric and flowers like rose, palash and tesu.
The company claimed the herbal Holi colours are therapeutic and cause no damage to skin and hair.
Go #ecofriendly this #Holi to enjoy the festival of #colours to the fullest with your near and dear ones. pic.twitter.com/804IZD3fPA

— Apollo Hospitals (@HospitalsApollo) March 22, 2016
Celebrate an #ecofriendly Holi with https://t.co/aKYQ1fmwmy. #ecofriendlyholi #BuyGood #holi #livethevalues pic.twitter.com/0DejJIzq6r — ForesticaIN (@ForesticaIN) March 15, 2016
The festival of colours is almost here! If you are buying colours, make sure they are organic. #ecofriendlyholi pic.twitter.com/AT4Z0cRQ66

— Earthling (@earthlingfirst) March 20, 2016