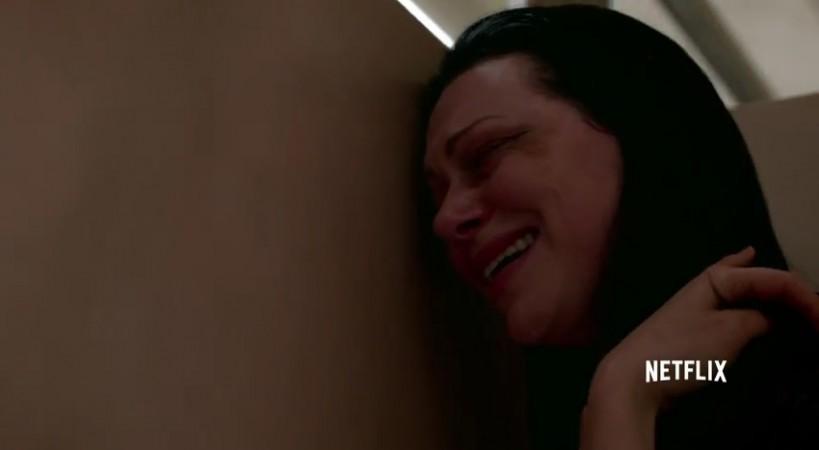 Netflix has finally given a sneak peek of the much-awaited "Orange Is the New Black" (OITNB) season 3 after weeks of speculations, making its fans even more curious.
The official trailer of "Orange Is the New Black" was uploaded on YouTube Thursday with the description: "The women of Litchfield unapologetically return for the third coming. With a crisis of faith and their beliefs and loyalties being tested, each character must decide what and who to believe in."
The 2.03 minute trailer with the song, "I'm So Sorry" by Imagine Dragons played in the background has a mix of fun, emotion and fight, enough to make fans want to know more. It shows Alex's (Laura Prepon) return to Litchfield and Lolly (Lori Petty) saying, "This place is amazing! The walls are so clean," Nicky's (Natasha Lyonne) flashback and Red (Kate Mulgrew) saying, "The world is better in black and white. And red."
Meanwhile, fans of the show will be curious to know many things like why Alex was crying and who is she making obscene gestures to, and what makes Lolly got into a conflict with Alex.
Spoilers of the show had earlier claimed that the new season might be brighten up unlike the darkness seen in the previous season.
"Season two was really dark and I think we really were excited about playing with this antagonist of Vee and seeing what that force would do to the characters we started to love over a season. I think season three is sort of a natural rebound from that darkness. Some of the joy comes back to Litchfield that was lost," writer Writer Lauren Morelli had earlier told Pittsburgh City Paper in an interview.
The cast of the popular television series include Taylor Schilling, Laura Prepon, Kate Mugrew, Danielle Brooks, Uzo Aduba, Natasha Lyonne, Taryn Manning, Laverne Cox, Michael Harney, Samira Wiley, and Yael Stone. Season 3 also has several new faces like Ruby Rose, Mike Birbiglia, Mary Steenburgen, Blair Brown, and Marsha Stephanie Blake.
"Orange Is The New Black" season 3 will be premiered on 12 June, 2015.
"Orange Is The New Black" - Season 3 - Official Trailer