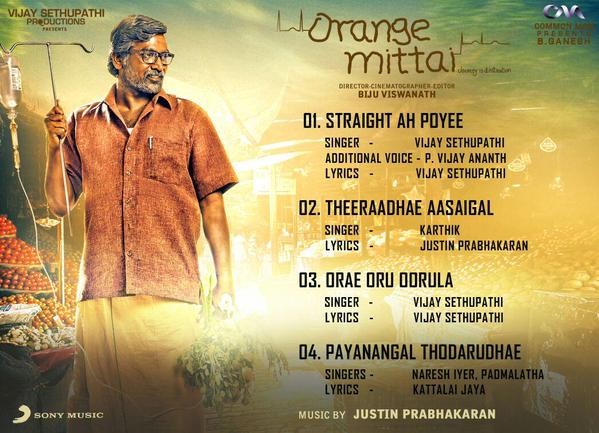 The much-awaited songs of "Oranage Mittai", which stars Vijay Sethupathi, in the lead have released. The songs, composed by Justin Prabhakaran, have managed to impress critics, who have rated the album as experimental and innovative.
The album consists of four songs, of which two have been written and sung by Vijay Sethupathi himself and the other two songs are penned by Justin Prabhakaran and Kattalai Jaya. Besides Vijay Sethupathi, the songs in the film have also been sung by Karthik, Naresh Iyer and Padmalatha
"Orange Mittai" is probably one of the most awaited films of Vijay Sethupathi and the movie, which will release soon, is produced by the actor himself.
Directed by Biju Viswanath, the movie will see Vijay Sethupathi in the role of a 55-year-old man and the posters of the film have revealed that the actor has completely changed his look.
The upcoming movie also stars Ramesh Thilak, Arumugam Bala and Aashrita in lead roles.
Here are the music reviews of "Orange Mittai" by various critics
"Straight Ah Poyee"
Singers: Vijay Sethupathi
Lyrics: Vijay Sethupathi
"An extremely funky number tossed with House mix and Hip Hop beats arrives next. This track also follows the storytelling pattern with some timely dose of electric guitar and creepy trumpets. However, there is no changeover point for the track to unleash an entertaining dimension."- Behindwoods
"The song doesn't boast of some fabulous tune, but has its own ethical factors to grab our attention. That's precisely due to the colossally casual rendition of Vijay Sethupathi. The fun filled lyrics and the right blend of western rock rhythmic accompaniment by Justin adds some impressive aspects."- Top 10 cinemas
"Theeraadhey Asaigal"
Singers: Karthik
Lyrics: Justin Prabhakaran
"This number strikes the bull's eye with a brilliant solo effectively mastered with lovely electric guitar riffs and confident vocals. The lyrics strike a balance between aesthetic touch and optimism. In fact, this is the only track which stands out effectively in the album." – Behindwoods
"The song speaks about a man's exhilarant mood of enjoying a journey and Karthik puts the best effort and the musical panorama with mild beats and instrumentals adorn the track. The lyrical lines are pretty good and if visuals are very well depicted, it would be an enjoyable song in theatres." – Top10 cinemas
"Orae Oru Oorula"
Singers: Vijay Sethupathi
Lyrics: Vijay Sethupathi
"A trendy number with an overdose of sequencing and digitalized vocals. There are impressive touches of contemporary sounds for this track which has a storytelling dimension to it as well. The usage of funny trumpets and real time sounds suiting the narrative is commendable."- Behindwoods
"Again, the man is back with his vocalizing experiment. This time, he renders a nursery rhyme style with some tales involving a Lion, Fox and Rabbit, which indirectly denotes the characters played by Vijay Sethupathi and other characters that travel in an ambulance. Again, the visuals would be adding up more intensity." –Top10cinemas
"Payanangal Thodarudhey"
Singers: Naresh Iyer, Padmalatha
Lyrics: Kattalai Jaya
"The album shifts gears to get into a soothing track high on sublime nature. The trance like vocals has a tinge of classicism with a stroke of mellowed treble percussions. The interludes are neatly laced up with meditative solo chorus and modern guitar strums. The moody and relaxed ambience is considerably created."- Behindwoods
"As the album comes to an end, we hear a duet very well tuned by Justin. The soothing mellisonant vocalisms of Naresh Iyer and Padmalatha are blissful. Compared to rest of the songs, this one is compellingly impressive, especially the interludes on strings and chorus."- Top10cinemas