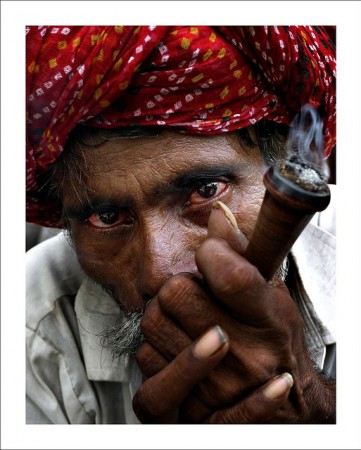 Oral cancer claims a significant number of lives in India, says an expert.
Every six hours at least one person loses battle with the deadly disease, according to Dr Ashok Dhoble, Secretary-General of the Indian Dental Association, Press Trust of India reported.
Apart from this, an increase in this number can be expected as many cases still remain unreported. "Cases of the disease and deaths resulting from it in rural areas and among the poorer sections of society are hardly registered," he told PTI.
Attributing about 40 percent of all cancer-related cases in India to oral cancer, he said smoking and popularity of chewable tobacco products contributed to an increase in oral cancer cases in the country during the last ten years. West Bengal, Andhra Pradesh, Gujarat and Tamil Nadu were the states that reported highest number of cases.
Citing the health risk associated with the habit, Dr Dhoble urged people to completely abstain from tobacco products.
"There is no other way to curb oral cancer... You have to ban tobacco in its every form," he cautioned, "I will advise people to visit a dentist and not to ignore even if there is a slight problem in the mouth... But above all they have to give up using tobacco in every form. That's the best medicine."
It is estimated that nearly 275 million people in India are addicted to tobacco and the unhealthy habit is expected to claim 1.5 million lives annually by the year 2020. Earlier in May, a report released by the Public Health Foundation of India (PHFI) showed that India spent ₹1,04,500 crore for managing tobacco-related diseases in 2011.
Smoking in public place is banned in India. Adding to it, the Maharashtra state health department recently announced its plans to make chewing tobacco products in public places punishable.
More Facts about Oral Cancer
Oral cancer can be found either in mouth or throat. In most cases, according to Medline Plus, it starts in the tongue or floor of the mouth. People, mainly men aged above 40, who use tobacco or alcohol, are at greater risk of oral cancer than others.
How to Find Out –Some Early Symptoms
An ulcer in the mouth that does not heal
When a white or reddish-coloured patch starts appearing inside the mouth
Loose teeth and tongue pain
Problems with chewing or swallowing
Lump that appears in neck
Ear pain
People, who suffer from these symptoms, even after more than two weeks, should visit the doctor, according to experts at the Mayo Clinic in US.