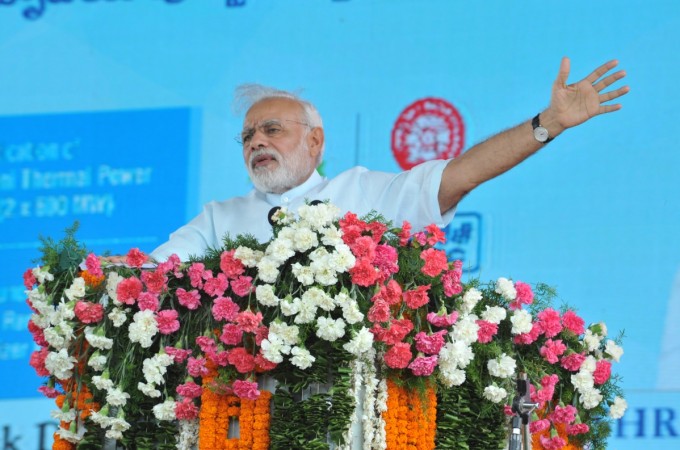 A barrage of voices, from both inside and outside the Parliament, and both from the Opposition and some from within, attacked Prime Minister Narendra Modi and the ruling NDA government, questioning the motive and authenticity of his statements on cow protection and vigilantism.
Modi recently made a string of statements on cow protection and vigilantism, starting with his speech at the 'Town Hall meet' on Saturday, followed by two separate statements issued during his visit to Telangana on Sunday.
Statements by PM Modi
"I'm angered by those who carry out activities in the name of Gau raksha," Modi said on Saturday, adding that the 'gau-rakshaks' should help in keeping cows from consuming plastic as that's the major cause of their untimely death.
"If you have a problem, if you feel like attacking someone, attack me, not my Dalit brothers. If you want to shoot anyone, shoot me, not my Dalit brothers," he later said during his address at the Hyderabad University, the alma mater of Dalit scholar Rohith Vemula, who committed suicide on Jan. 17, triggering an agitation at the University which spread to other campuses in the country.
Earlier, he expressed stated his displeasure at Medak aginst "fake cow protectors" saying they were "dividing the nation and should be isolated and punished". "Be wary of 'nakli' (fake) gau rakshaks, they have nothing to do with cow. Governments should crack down on them," he had said.
Opposition slams Prime Minister
The Opposition said on Monday that Modi was shedding "crocodile tears" and staged a walk out of parliament during zero hour. Congress MP Pramod Tiwari raised the issue of the alleged death of about 1,000 cows at a Rajasthan government-run cattle shelter near Jaipur and sought action against the "killer" state government.
Congress members continued their chants that the prime minister should speak on the issue in the House rather than "tweet" about it. Senior Congress leader Digvijay Singh criticised Modi, accusing him of making such statements to distance himself from ensuring justice to the victims of attacks — the minority and the Dalit community.
"The kind of statement PM is giving like 'I have become helpless. Do not kill Dalits, shoot me.' It does not behove of of any Prime Minister to give such statement. This kind of statement by a PM is a proof that he is so helpless…In Jharkhand, a Muslim boy was killed. What action was taken after that? Where was the slogan of Vasudeva Kutumbakam (World is one)?," Singh said.
Congress chief ministerial candidate for Uttar Pradesh, Sheila Dikshit, and Uttar Pradesh Chief Minister Akhilesh Yadav also slammed Modi's statements.
"I am not satisfied with the Prime Minister's statement (on gau raksha). Only lip service will not work. He has to initiate strict action…I have seen cows wandering on the streets and no one cares for them. For gau raksha (cow protection), cow shelters should be made. They also have the right to live. Something needs to be done on the ground," Dikshit said.
Yadav too took the opportunity to launch a tirade against the Bharatiya Janata Party. "BJP's attitude on the issue of cow is well known. Cows are owned by farmers in villages. You can find cows with us (Yadavs)...But tell me which person in BJP in a city owns a cow," he said.
What the RSS and VHP say about PM's statements
The Rashtriya Swayamsevak Sangh (RSS) stood by the PM on the issue. RSS general secretary Bhaiyaji Joshi, who is the second in command after Mohan Bhagwat, condemned the "inhuman" violence and asked state governments to take action against elements trying to "disturb communal harmony and trust." On the other hand, Vishva Hindu Parishad (VHP) joint general secretary Surendra Jain vowed to continue work related to protection of cows.
Earlier, Satish Kumar, the chief of Gau Raksha Dal from Punjab who was arrested on Monday for allegedly assaulting some persons on pretext of cow protection, also lashed out at the PM.
"The PM's statement is politically motivated. It is one-sided. If he had warned the butchers not to slaughter or smuggle cow, then his statement would have been justified...He is doing vote bank politics to get the butchers' vote," Kumar was quoted as saying by PTI.
On the basis of a video clip which appeared on social media, an FIR was filed against Kumar that charged him under Sections 382 (having made preparation for causing death), 384 (committing extortion), 341 (wrongfully restraining any person), along with sections 148 and 149, of the Indian Penal Code, according to SSP Gurmeet Chauhan.