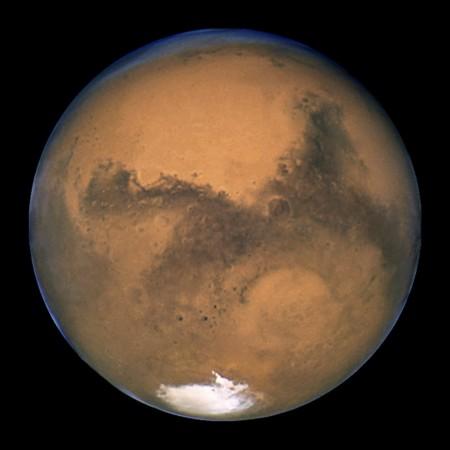 A rare space event is set to occur on Tuesday 8 April 2014 (Wednesday 9 April in India) at 7:00 pm EST (4:30 am IST), when the red planet, Mars will fall in a straight line with Sun and Earth. On this day, Mars will appear to be larger, brighter red star in the night sky as it shines at magnitude -1.5 in the constellation Virgo.
This cosmic alignment, called opposition occurs in every 778 days or two years, one month and 18 days. Earth travels faster as it is closer to the sun, completing a round in 365 days, while Mars that is farther from the sun takes 687 days to travel.
In 16th century, Johannes Kepler discovered that the planets follow slightly elliptical paths around the sun, sometimes closer to the Sun, called as perihelion, sometimes farther away or aphelion, according to an article in space.com.
Venus and Earth are some planets that travel in almost perfect circles, whereas other planets, like Mars and Mercury travel in more eccentric or elliptical orbits.
On the opposition day, Mars, Earth and Sun will align in a straight line and after six days, both the planets after having moved a little along their own orbits will be seen closer to the Earth because of the eccentricity of its orbit.
Slooh, the online webcast will cast the opposition from its automated telescopes that is based in the Canary Islands off of the coast of West Africa and will feature live commentary from hosts Paul Cox and Bob Berman, Universe Today reported.
Watch the Mars opposition 2014 live here.
Photo Credit: NASA
(Edited by Anu James)