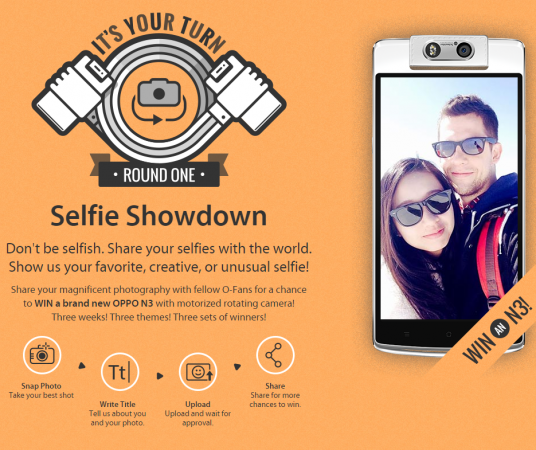 Oppo India has announced a global mobile photography contest on their Facebook and Twitter pages. Named as "It's Your Turn", the contest will accept mobile phone-clicked images. Through the contest consumers can share their stories along with their photographs.
The company will give away 30 Oppo N3 flagship smartphone as prizes. The model has received much attention since its global launch and will be available in India market soon.
As the flagship of the Oppo N series, the N3 model sports a unique motorised rotating camera, which brings a novel photography experience.
Meanwhile, he three-week contest starting on 28 January 2015 will centre on three themes ― "Selfie Showdown", "Our World" and "Inspiring Moments." The contest is open to all and those interested can take part by visiting the contest's official page.
Contestants need to visit the page and upload a selfie with details and submit the entry. They can also post the entry by clicking on any of the social media links given on the page to promote their participation among friends and contacts. The winners will be decided by a jury while the Facebook accounts of Oppo's global and regional sites will share photos uploaded by participants on a regular basis.
While delivering pictures up to 64mp through Oppo's market leading Pure Image processing technology, N3 is equipped with customised versatile camera software that enables the user to reach desired functions quickly and combine them easily to create one-of-a-kind pictures.