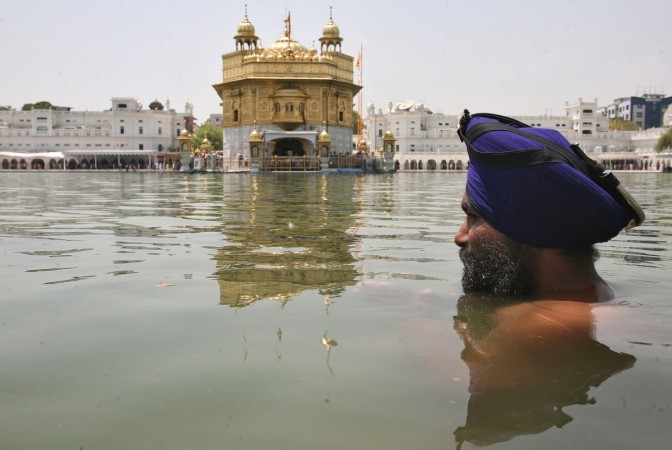 UPDATE: 3:06 p.m. IST — The Shiromani Gurdwara Parbandhak Committee (SGPC) has denied reports of imposing a ban on media to cover the event on the anniversary of the Operation Bluestar at the Golden Temple, NDTV reported.
Adding that media is expected to cover the event in a disciplined manner, SGPC President Avtar Singh Makkar was quoted by the channel as saying: "There is no ban on media, press is free to cover event."
Original Story —
The Shiromani Gurdwara Parbandhak Committee (SGPC) on Saturday banned the entry of media at the Golden Temple ahead of the 32nd anniversary of the Operation Bluestar on June 6, saying that media coverage of the programme might hurt the sentiments of Sikhs. The order was reportedly passed by SGPC Chief Secretary Harcharan Singh.
According to the Indian Express, Singh wrote a letter to Police Commissioner Amar Singh Chahal and district public relation officer Sherjang Singh Hundal seeking help of the police to keep reporters away from the premises of the Golden Temple on the day the anniversary is to be observed.
Singh was quoted by the daily as saying that there has always been media intervention in the event, therefore they will not be allowed to cover the anniversary as it may hurt the sentiments of Sikhs.
The Times of India reported that the ban has come at a time when there is tension between Damdami Taksal, prominent Sikh seminary, and well-known preacher Ranjit Singh Dhadrianwale. Supporters of the seminary had allegedly attacked Dhadrianwale, leaving his close associate Bhupinder Singh Dhakki dead in Ludhiana on May 18.
A copy of the order has apparently been sent to the Amritsar commissioner of police and also to various media organisations through the district information and public relations office.
Condemning the ban, Punjab Congress Chief Captain Amarinder Singh was quoted by TOI as saying: "This is a condemnable and reproachable act by the Badal-run and backed SGPC. Golden Temple is 'Guru da ghar' (abode of Guru). They can't stop anyone from visiting the shrine whether one is a photographer or a journalist."
Akali Dal Amritsar's General Secretary Jarnail Singh Sakira also condemned the ban saying that such an order had not been passed even during the Operation Bluestar in 1984.
Sakira was quoted by the daily as saying: "This is something unheard in the history of SGPC. How can it stop media from entering the Golden Temple complex to cover the event which the Sikhs around the world want to see? SGPC officials are scared."