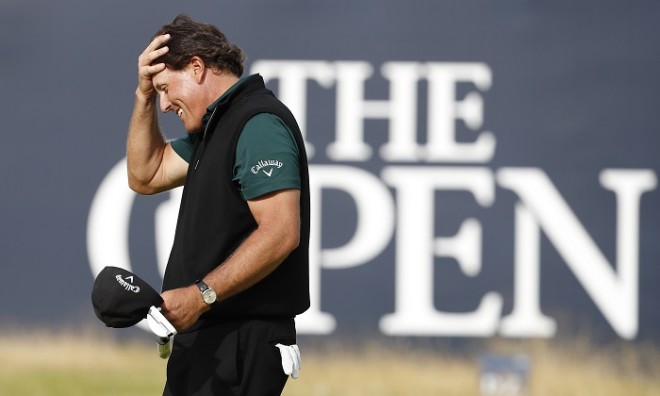 Phil Mickelson rolled back the years in some style, falling agonisingly short of a record as The Open Championship produced an outstanding day of golf on the opening day on Thursday. All eyes would have been on the top four of golf – Jason Day, Dustin Johnson, Jordan Spieth and Rory McIlroy – but it was Mickelson who stole the show with a brilliant eight under par 63, a course record at Royal Troon.
While a round like that would have been good enough for almost everyone to be grinning from ear to ear, Mickelson and the entire crowd at the Royal Troon were left shaking their heads in disbelief, as the American veteran saw his birdie putt at the 18th lip out, as a result denying him the chance of becoming the first ever player to shoot a 62 in a major championship.
"I want to shed a tear right now," Mickelson said. "That putt on 18 was an opportunity to do something historical. I knew it and with a foot to go, I thought I had done it. I saw that ball rolling right in the centre. I went to go get it, I had that surge of adrenalin that I had just shot 62. And then I had the heartbreak that I hadn't. That stings."
Once that disappointment has gone, however, Mickelson can look back on a wonderful opening round, which gives him a three-shot lead from the rest of the competition going into the second day. Fellow American Patrick Reed and former world number one Martin Kaymer of Germany shot identical 66s to finish on five under.
Eight players shot 65 to remain four shots behind Mickelson, including defending champion Zach Johnson. Rory McIlroy finished on two under 69, while Spieth and Dustin Johnson could only manage even pars. World number one Day had a disappointing first round, which finished at 2 over par 73, which means he is all of ten shots adrift of the pace maker.
"It's a little frustrating," Day said. "I actually drove it pretty good, but every time I hit an iron I kept on missing it left. I understand the next few days are going to be difficult, so the scores will probably come back. If I can just play good, solid golf and get the ball in front of me, I think I can inch my way back in."
India's Anirban Lahiri was in illustrious company, alongside the likes of McIlroy and Adam Scott. If Lahiri can maintain the same form in the second round, he will definitely make the cut, before thinking about maybe targeting a top-ten finish.