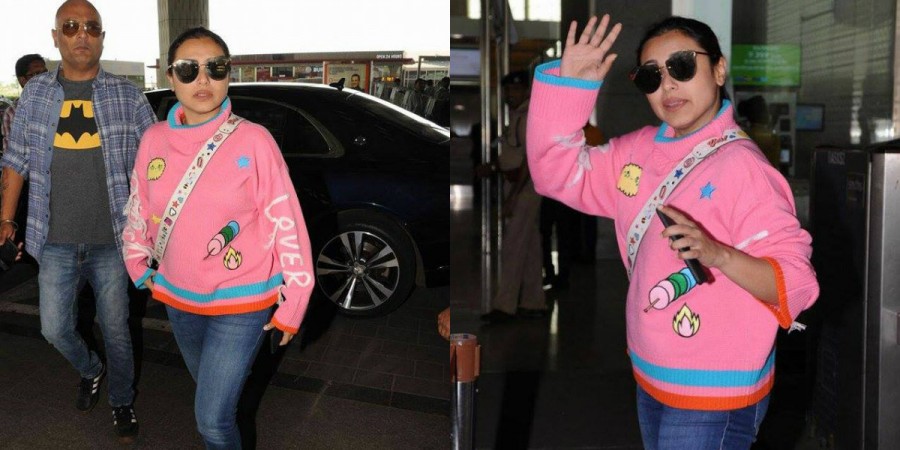 Bollywood actress Rani Mukerji's latest airport look is terrible! How could she have gone so wrong?
Right from the colour, the fit, the pattern and the unnecessary quirky tags, this sweater was just a No-no! And what's with the sling bag? Has she borrowed it from daughter Adira?
Please do something better next time Rani.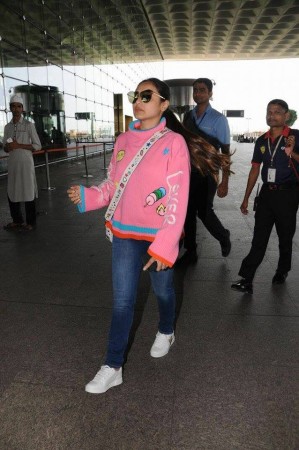 Rani Mukherji was recently in focus when her father Ram Mukherjee passed away on October 22 in Mumbai: She was seen at the prayer meet.
The veteran filmmaker directed several movies such as Raktanadir Dhara, Tomar Rakte Amar Sohag, Raktalekha and Ek Bar Mooskura Do.
He is survived by wife Krishna Mukherjee, daughter Rani and son Raja.
Rani Mukerji has been married to noted filmmaker Aditya Chopra since 2014. They have a daughter named Adira, who will turn two this December.
Rani is expected to be next seen — barring hiccups — in a film called Hichki. Directed by Siddharth P Malhotra, Hichki is supposed to be a positive and inspiring story about a woman who turns her biggest weakness into her strength.
Hichki will be Rani's first film after her daughter's birth. She was last seen in Mardaani (2014).
Speaking about the film that is being produced by husband Aditya's Yash Raj Films, Rani had earlier said in a statement: "I was looking for a script that would challenge and excite me, and Hichki came my way. Each of us has a weakness that pulls us back. It could be a disability or any condition but if we just look at it as simply a hiccup, we can emerge as a winner. It won't come in the way of achieving our dreams. Hichki is built on this positive premise and I decided to take it up."