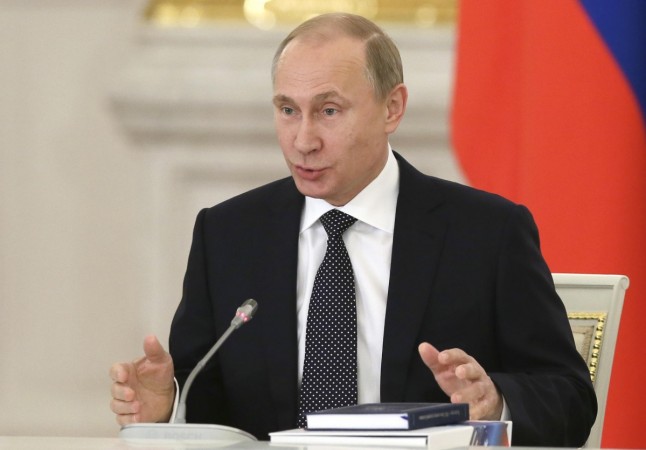 As Russian President Vladimir Putin continues to remain 'missing' from public view, rumours have spawned theories of his death, a secret love child and also a possible coup.
While Kremlin has been forced to strike off these rumours one at a time, state media has been churning out stories to portray a normal state of affairs in Moscow.
State-owned RIA news agency reported on Monday that Putin had ordered the Russian Navy's Northern Fleet to be on full alert for snap military exercises, which can be seen as yet another attempt to convey an image of regularity in Kremlin.
But there is more to the matter than meets the eye, according to international studies expert Arun Kumar Mohanty, who has been closely following the chain of events in Russia.
"It is suspicious that Putin's disappearance came close to the murder of his critic Boris Nemtsov. The high-profile murder is seen among large sections of the local media as being a strategy to demonize Putin and bring Opposition protesters back on the streets given that their numbers were dwindling," said Mohanty, professor at the Centre of Russian Studies, School of International Studies, Jawaharlal Nehru University in New Delhi.
"But it is clear that Putin can be taken out of office only through a coup or elimination. There were several local reports about threats to Putin's life, with some reports speculating a Western hand plotting Putin's elimination, akin to that of other national rulers such as Gaddafi and Saddam Hussein," Mohanty said.
"However, I feel that reports of his death are exaggerated," the professor added.
Speculations of a coup are more substantiated, he said.
Reports emerged on Sunday suggesting that Putin had been 'neutralised' in a coup by Federal Security Service (FSB) agents.
Geydar Dzhemal, the pro-Kremlin chairman of Russia's Islamic Committee, said that Putin's own security service agents had neutralized him, Daily Mail had reported.
What further fuelled the rumour was Chechen leader Ramzan Kadyrov's pledge of support to Putin with a rather suggestive use of words –'I am devoted to him as a person. And this regardless of whether he is in his position or not'.
The Chechen leader's closeness to Putin and the current focus on Chechen suspects in Nemtsov's murder are also links that are widely being probed, suggesting that the events angered the FSB authorities.
Mohanty also suggested that the media speculations about Putin could be a 'caluclated' move.
"The calculated objective of this kind of a wild media campaign is to create an impression that an atmosphere of instability and confusion prevails in Russia, which is aimed at preventing investment into the country and spoiling its image abroad," he said.
He blamed Kremlin for giving room to the wild rumours by not revealing clear details about the President.
"Kremlin is responsible for the speculations. In the tight political atmosphere in Russia, they have failed to give details about where or how the President has been, which has only led to wild speculations," he said.
All eyes are now on Putin's meeting with the Kyrgyzstan President slated for Monday, and only his public appearance can put to rest the multiplying theories.
However, Mohanty thinks otherwise.
"Even if Putin were to attend the meeting, several speculations about Putin's future as the President will still persist, given the current atmosphere in Russia," he said.