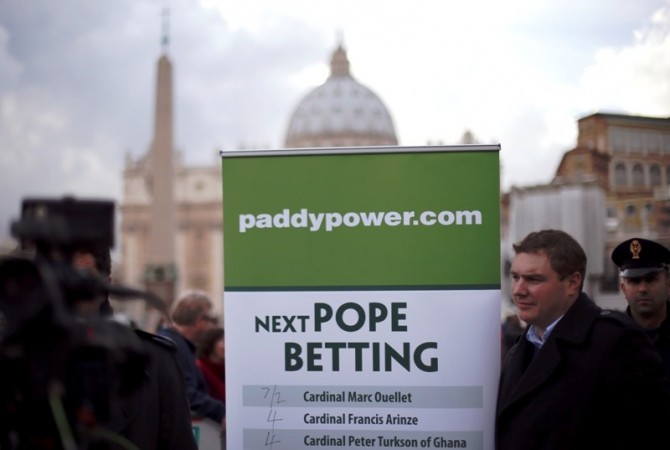 Although the day one of the Papal Conclave did not yield any results, the gambling world has already predicted the next 'possible' pope.
Online betting sites Paddy Power and Oddschecker have compiled a list of the top 25 potential popes. Topping the chart is Cardinal Angelo Scola of Italy. He has a 23 percent chance of becoming the next pope. Huffington Post reported a Paddy Power compiler as saying, "Scola is appealing to punters who think an Italian candidate will be resident in the Vatican next. It is well known that there is a solid Italian voting bloc in the College of Cardinals, and Scola is currently top of the pile."
Next favourite is Cardinal Peter Turkson of Ghana with a 22 percent chance. Turkson, born in October 1948, was appointed Archbishop of Cape Coast in 1992. The odds compiler said, "He's commanded almost a quarter of the bets so far! Some are pointing to the political pressure for a non-Westerner to be appointed, and Catholicism is certainly growing in Africa. The question remains whether or not the European Cardinals will connect with him enough to give the necessary ballots to become the first black pope."
Canadian Cardinal Marc Ouellet ranks third among the potential popes. The Guardian reported that Ouellet is one of the most powerful men in the Vatican and was appointed to the third most important job in the Church three years ago.
The list also suggests that out of the top six favourite contenders, four are are from Italy.
However, New York Times columnist wrote, "This time, the experts and oddsmakers seem to agree that Cardinal Scola is the favorite, but they don't agree on all of the second-tier favorites. A survey of Vatican watchers by YouTrend listed Cardinal Timothy Dolan of the United States as the second most likely pope, followed by Cardinals Ouellet, Scherer and O'Malley. Cardinal Luis Tagle, of the Philippines, was sixth. A couple of the oddsmakers' favorites, including Cardinals Turkson and Bertone, do not appear on the YouTrend list."