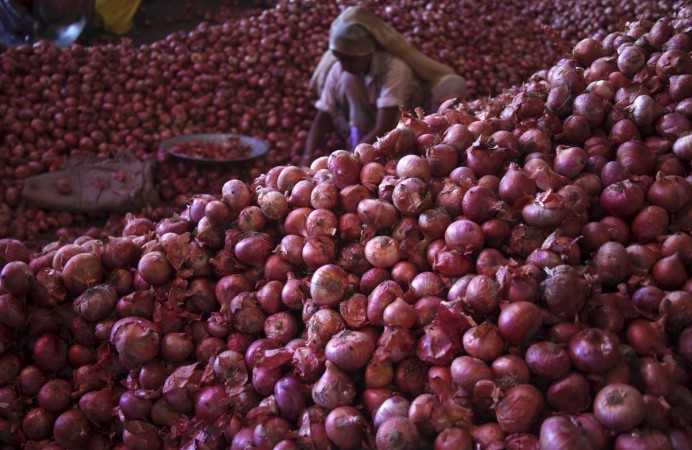 Onion prices in the market shot up to Rs 80 per kilogram (kg) in Delhi and a few other cities on Tuesday due to a squeeze in supply, suggesting that if the trend continues, retail inflation in India might also go up in the coming quarters, according to a Press Trust of India report.
Onions are now being sold at Rs 50-70 per kg in other metro cities, depending on the quality and locality, showed trade data.
Prices of onions at the Azadpur Mandi — Asia's largest vegetable market — were more than Rs 50-60 per kg over the past few days. However, on Tuesday the same onions sold for Rs 80 a kg, according to a trader.
Earlier reports suggested that the cost of a kilo of onion had shot up to Rs 30 from Rs 12. The prices were further expected to cross the Rs 50 mark by the end of August.
This rise in prices is mainly because of crop failure in Karnataka, Andhra Pradesh and Tamil Nadu, according to sources in the onion markets.
The Gujarat floods and buying of onions by the Madhya Pradesh government recently could have also contributed to the northward movement of the prices.
The arrival of onions at the Lasalgoan mandi in Maharashtra — Asia's biggest onion market — has dropped 47 percent to 12,000 quintals this month from 22,933 quintals from the same time a year ago.
Reports suggest onions at Lasalgoan are now being sold at Rs 33 per kg as against Rs 7.50 per kg a year ago.
"Owing to continuous drought over the past three years and failure of monsoon this season as well, most borewells have run dry and crop loss is severe in the State. The supply is less than 50 percent, leading to a steep price hike," said Ravi Kumar of the Bangalore Potato and Onion Traders' Association.
This year looks like to be a repeat of 2015, when a kilo of onion had touched Rs 80 by the year-end. The prices of onions have seen a huge rally in 2013, 2015 and now in 2017.
"The year 2015 saw the biggest rally of prices in recent times, leading to farmers in large numbers to opt for the crop in 2016, keeping prices low," said Kumar.
"The supply is more than one-third less than normal, pushing up the prices," said a senior procurement official from a grocery chain.