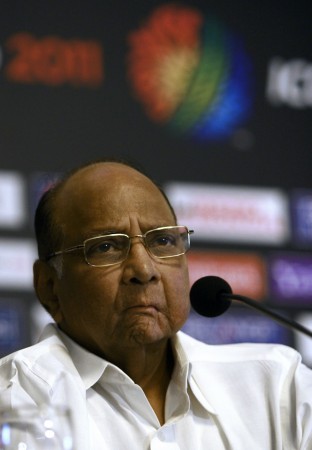 Nationalist Congress Party chief Sharad Pawar is the second person to have enjoyed the post of Union Agricultural Minister for more than a single term after former Congress leader Jagjivan Ram.
Unlike the late Congress leader, who is remembered for his contribution to the Green Revolution in India back in the 1970s, Pawar's tenure has been marred by a series of controversies and allegations of corruption against him. The latest controversy on skyrocketing prices of onions isn't the first one.
2007 Wheat Import Scandal
In May 2007, Agricultural ministry cancelled a tender for wheat procurement that was proposed by Food Corporation of India (FCI) when the lowest bid received was for $263 a tonne. The Congress-led UPA government subsequently allowed private traders to buy wheat directly from farmers, resulting in a scarcity of wheat stocks in FCI granaries.
Due to the shortage, FCI had to order an import of 9.50 lakh tones of wheat in July priced between $320 to $360 a tonne. The traders, who had domestically purchased the food grain, were then offering the same at higher prices, leading to a multi-crore scam. Opposition, Bharatiya Janata Party (BJP), had then demanded Pawar to resign from the post.
2009 Sugar Price Rise
Despite importing zero-duty raw sugar in January 2009, processed sugar was not circulated in the domestic market till early August. Communist Party of India (Marxist) leader Brinda Karat accused Pawar of supporting the steep rise in sugar prices. The Agriculture minister denied the allegations and said low sugar production was behind the high prices.
The BJP accused Pawar of exporting sugar at a cheap rate of ₹12.50 per kg and realising the shortfall later, imported it at ₹30 per kg. Opposition parties soon demanded a CBI level probe into all the scams related to Agricultural Ministry and Pawar's alleged hand in them.
2011 Onion Price Rise & the Slapping Incident
Due to the delayed monsoon in Maharashtra and Gujarat, a sudden surge in onion prices was observed across the nation in September 2011. Onion prices rose by more than 57 percent within a fortnight, leading to double digit inflation.
Angered by the corruption allegations against Pawar and rising onion prices, an auto-rickshaw driver named Harvinder Singh slapped Pawar in public. The minister was on his way out after attending a literary function at the New Delhi Municipal Corporation centre when Singh attacked him saying, "He is a thief, they are all thieves."
Previously, Singh had tried to attack former telecom minister Sukh Ram, who was convicted in a corruption case and sent to jail for five years.
2013 Onion Price Rise
Onion prices shot up sharply across the nation twice this year. Even though production declined only by 5 percent this year with storage levels short of just two lakh tonnes, 20-40 percent of the production did not reach local markets in the June-July period.
The government found private traders in Nashik, Maharashtra, hoarding five lakh quintals of onions between 12-15 August and raking in ₹150 crore.
A similar surge in onion prices was observed across the country this week, retailing at ₹100 per kg in Jammu and Kashmir and other parts of India.
This time, BJP trained its guns at the Congress-led government while the latter blamed Madhya Pradesh government for the onion price rise.
Pawar refused to take the blame saying a price hike is good for Indian farmers. He accused the state government of failing to keep the price rise in check.
"Every state government has to take strict action against rise in onion prices; this is just a temporary phase. Government doesn't control or sell onions, it is the market which decides the price," he told ANI.
Pawar recently claimed in a blog that he had 'volunteered' to take charge of the agriculture portfolio back in 2004. But in July this year, he had threatened the Congress of renouncing his title.
"I had a blueprint in my mind to enhance the food yield in the country. The country's food grain production stood in the range of 200 million tonnes, barely sufficient to meet the domestic requirement," he said in his first blog post.
The minister tried to defend himself by presenting statistics regarding an increase in the production of food grains.
Food grain production during his tenure rose from 200 million tonnes in 2004 to 260 million tonnes in 2011-12.
Citing President Pranab Mukherjee's speech in February, Pawar said, "Statistics aren't all that bad."