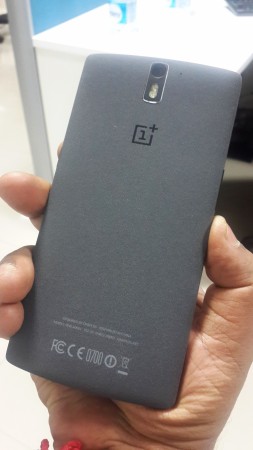 OnePlus One smartphone is one of the high-end smartphones in the industry available at an affordable price. At Rs 18,999, buyers can pick up the 16GB variant of the premium handset that packs incredible specs.
For those buyers who think the price is still high, here is a chance to buy the smartphone for as low as Rs 12,999.
Overcart is hosting a sale of refurbished OnePlus One handsets in India next week, the e-commerce site said in a press release on Tuesday.
Prospective buyers must register on its website in order to purchase the refurbished OnePlus One 16GB handsets. There is no specific sale date but the e-commerce website will notify registered customers via email.
"You will receive an email with the link for the purchase prior to the sale. All you need to do is follow the link provided in that email, log into your account and complete your purchase," says Overcart's confirmation email on signing up for the sale.
Registrations will not guarantee a device until users follow the purchase link and complete the order during the limited sale period.
The online retailer has not confirmed the number of units that will go on sale but said the stock will be limited. The upcoming flash sale will be open to all and registration is not mandated prior to the purchase.
When contacted, Overcart's co-founder, Saptarshi Nath, said the sale date is likely to be finalised by the end of next week, depending on completion of quality checks and certifications.
Is it safe to buy refurbished phones?
Nath says refurbished phones are restored to the best of their condition before they are sold to consumers.
"Each of our products pass through extensive testing prior to resale. For Android devices, our proprietary Android app tests all the functionalities of the devices—this is followed by a manual check by a QC expert who verifies the physical condition of the products. In addition, a QC manager (usually a green belt six sigma certified professional) will review the test results before certifying it."
"For certain brands, we get the products certified by the brand's authorized refurbishment companies themselves. In such cases, our role is limited to the sale of products."
"Customers are provided with a 7 day returns guarantee, as well as authorized service center support (the latter for majority of our devices)."
"This flash sale will feature fewer units as compared to our past sales. We are working with OnePlus authorised refurbishment partners to ensure that every product meets our certification prior to the sale," said Nath in a statement.
The upcoming sale of refurbished OnePlus One smartphones is the second sale hosted by Overcart. Earlier in May, the company sold 64GB variant of the OnePlus One for ₹16,999 with a 6- month warranty on the device.
Other than OnePLus One, the online retailer also sold refurbished Asus Zenfone smartphones and Xiaomi Redmi 1S at discounted prices.
Key Specifications of OnePlus One
Display: 5.5-inch Full HD IPS display, 401ppi, Gorilla Glass 3 protection
Processor: 2.5GHz quad-core Qualcomm Snapdragon 801 processor
RAM: 3GB
Storage: 16GB
Camera: 13MP primary camera with dual-LED flash, 5MP front snapper
Battery: 3,100mAh
OS: Android KitKat based CM 11S upgradeable to Android Lollipop based CM 12 OS.