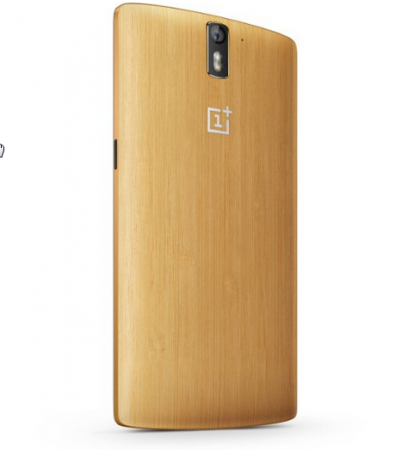 OnePlus has finally launched the Bamboo Styleswap covers for Indian users. The cover can be fit on the back side of the smartphone, adding an eco-friendly look to the OnePlus One smartphones.
OnePlus One devices come in two colour variants by default ― sandstone black and silk white. While the 16GB editions come by default with silk white color, the sandstone black edition comes with 64GB models only.
While the actual cost of the Bamboo Styleswap cover is ₹3,000, the Indian users can purchase the back cover for ₹1,499 via Amazon India.
OnePlus has also launched a 10,000mAh power bank device with 10,000mAh battery capacity. Available in silk white and sandstone black colour variants, the OnePlus power bank is available via Amazon for ₹1,399.
While OnePlus has already withdrawn the invitation-only sales strategy for the One series of smartphones, the Chinese smartphone-maker has announced to launch something sensational on 1 June through its official OnePlus Twitter handle.
"We're always looking for ways to shake up the tech industry. And we think it's time for change. Find out more June 1," the tweet reads.
OnePlus Two, successor of flagship-killer OnePlus One smartphone, was also spotted recently on Primelabs website. The image showing the anticipated phone has been benchmarked with the PrimeLabs-made GeekBench benchmarking app.
Recently, we benchmarked the OnePlus One while comparing the phone with ASUS's latest ZenFone 2 smartphone and found the OnePlus model achieved 969 single-core and 3041 multi-core score. Hence, if the report is true, the OnePlus Two is sure to bring a fresh sensation in the smartphone market.
According to earlier GizChina reports, OnePlus Two will feature a 5.5-inch display with a resolution support of 2,560x1,440 and will also feature Snapdragon 810 SoC, 4GB RAM, 3,300mAh battery and Android 5.0 Lollipop. But OnePlus might skip the SoC since Snapdragon is yet to address the heating issue of S810. In that case, it might feature the SnapDragon 615 or some other SoC in its upcoming flagship smartphone.
But since SnapDragon 810 suffers with some heating issues, OnePlus Two might feature SnapDragon 615 or Snapdragon 808 SoC.