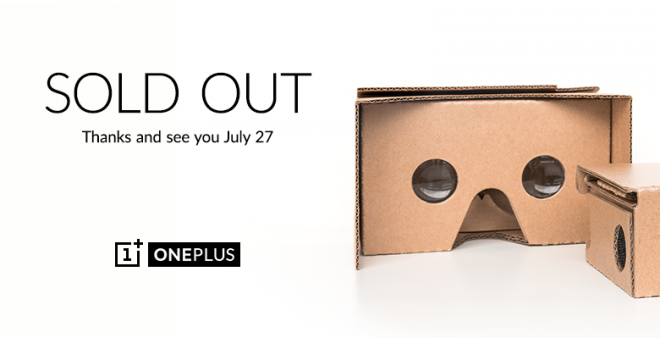 OnePlus is taking a unique route to launch the much-awaited successor of OnePlus One, via virtual reality. To make sure the release of OnePlus 2 is watched by as many people as possible, the tech giant started giving out Google Cardboards to people for free.
Those who were able to order the free Cardboard VR headset by just paying the shipping charges, will begin receiving it by 10 July. But, the giveaway window is closed now as the product is out of stock.
As per the company's website, OnePlus' Google Cardboard is out of stock now and there is no information on if it will be available again before the event. But, it's not the end of the world for those who really wish to get their hands on one of these VRs. You can build your own VR headset using simple equipment, by following OnePlus' step-by-step guide. In case you are running out of patience, shell out as low as $15 - $20 to get yourself a viewer. Google has a dedicated online store where you can find various Cardboard VR headsets from different sellers in one place.
"Our limited edition OnePlus Cardboard is now sold out on oneplus.net! Thank you so much to everyone who has shown their support for our upcoming launch event -- it's going to be monumental," OnePlus wrote in a post on the company's forum.
If you live in India, OnePlus revealed that the Cardboard VR will be available on Amazon India later this month. Interested buyers will have to pay a nominal fee of ₹99 plus shipping (₹40 for standard). The company hasn't announced the exact sale date as yet, but we'll update you as soon as we learn about it.