OnePlus has announced their latest flagship devices, the OnePlus 7 series. The launch event opened with CEO Pete Lau's acknowledgement of how OnePlus has done in India, being the top choice in high-end smartphones in 2018 in India. It was announced that Hyderabad will be home to OnePlus' biggest store in the world. OnePlus' stores have quadrupled over the world and they plan to open experience centres in Pune and Mumbai.
Here's everything OnePlus announced at today's event in Bengaluru:
Wireless Earphones
Tilen Pigac, the Head of Community at OnePlus India, announced the new earphones Bullets Wireless 2 with literal chest thumping and quite a few music references. The new pair of earphones will sport Bluetooth 5.0 and boast warp charge compatibility, enabling a full charge of 14 hours audio playback, in under 15 minutes. It will have two Knowles balanced armature drivers and a 10mm dynamic driver to provide great bass and high treble.
OnePlus 7 Pro: Design and Performance
Now onto the highlight of the event. The OnePlus 7 Pro itself is a beautiful phone with the highest rated display in the market. "A great user experience means freedom and should enhance your life instead of distracting you from it. I'm so proud of what we've built with the OnePlus 7 series and can't wait for people to try out the display," said Lau.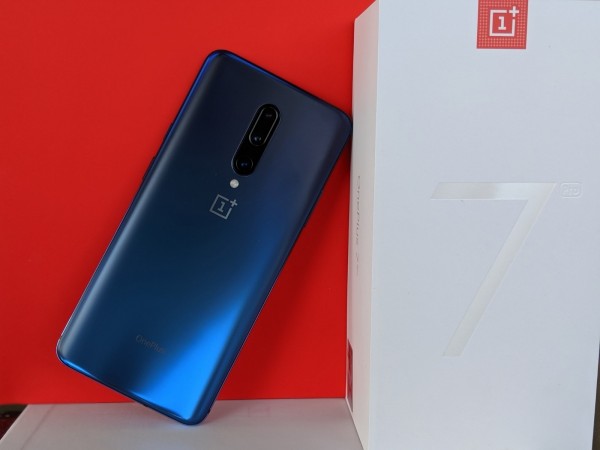 It will arrive in three colours – Nebula Blue, Mirror Grey and Almond. It does not have a notch or a hole to mar its 6.7inch display, which features a new technology which has been dubbed as Fluid AMOLED. The screen-to-body ratio of 93 percent. This is the first phone from OnePlus to have a QHD display, packing 4.5 million pixels packed in a density of 516ppi.
This, paired with a refresh rate of 90Hz, will allow a spectacular experience on the slim phone. OnePlus also added their version of Samsung's edge lighting, which they are calling Horizon Light. It will have a blue light filter and support HDR10 for the ultimate video viewing experience.
OnePlus has partnered with Netflix to bring content to view in HDR to the new phone. The show then transitioned to the camera, a 16MP selfie camera that pops up in a little over half a second. OnePlus assured the audience of the camera's physical durability by with a video showing a 20-kg block being lifted just by the camera. Further, if the phone is dropped accidentally (or intentionally) while the selfie camera is open, it closes by itself before the phone hits the ground.
The triple camera setup at the rear has been called a DSLR replacement and it features a Sony IMX586 48MP sensor. It has a 7P lens setup with an aperture of f/1.6. The second sensor sports a 16MP wide-angle lens with a 117-degree field of view at an aperture of f/2.2. The third sensor is an 8MP one and has an aperture lens of f/2.4 with OIS and 3x optical zoom. The phone's photo quality has been given a score of 111 by DXOMark, putting it ahead of Samsung Galaxy S10 Plus, iPhone XS Max and Google Pixel 3.
Google Lens will be available with the camera, giving a nice boost to the already great software. The phone has Snapdragon 855 with 7nm architecture, which makes it 45% faster and 20% more power-efficient than the previous generation. The phone can handle up to 12GBs of RAM, cutting downloading times. As per earlier rumours, it has UFS 3.0 storage technology and can run all day with its 4,000 mAH battery. The phone is liquid cooled and features stereo speakers with Dolby Atmos support.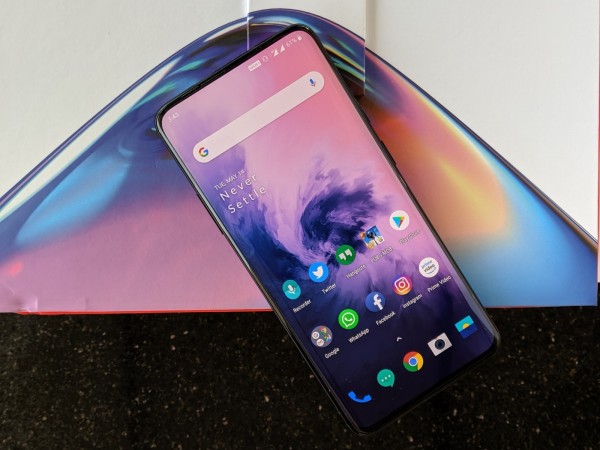 As far as gaming on the phone goes, OnePlus had Sam Mathews from esports group Fnatic explain how the Adreno 640 GPU and the 90Hz screen can take gaming on the mobile platform to the next level. He announced a new Fnatic mode on the phone, which will put the device into overdrive by focusing all cores on the game, removing network interference from background apps and blocking notifications to deliver a better gaming experience.
The OnePlus 7 will be available in red, a colour not available on the larger variant.
Price, Availability and Offers
| | | | |
| --- | --- | --- | --- |
| Product | Configuration | Price | Availability (open sales) |
| OnePlus 7 Pro Mirror Gray | 6+128 GB, 8+256 GB | INR 48,999, INR 52,999 | 17 May |
| OnePlus 7 Pro Nebula Blue | 8+ 256 GB, 12 + 256GB | INR 52999, INR 57,999 | 28 May |
| OnePlus 7 Pro Almond | 8+ 256 GB | INR 52,999 | June |
| OnePlus 7 Mirror Gray | 6+128 GB, 8 + 256 GB | IINR 32,999, INR 37,999 | June |
| OnePlus 7 Red | 8+256 GB | INR 37,999 | June |
| OnePlus Bullets Wireless 2 | NA | INR 5,990 | Coming soon |