It's practically a tradition now to get an early peek into the upcoming smartphones, be it iPhones, Samsung Galaxy smartphones or any other phone from multitude of brands in the market. OnePlus, which shot to fame in a very short time, is not an exception.
Following the success of OnePlus 5 this year, the Chinese smartphone maker is up to grab the headlines once again. OnePlus is expected to launch a successor to the critically-acclaimed OnePlus 5 sometime in November, and constant leaks and rumours suggest it is out to take on the biggies, including Samsung and Apple.
While the hype for OnePlus 5T, the rumoured successor of the OnePlus 5, continues to gain solid ground, popular mobile tipster Evan Blass (@evleaks) shared a photo of the unannounced flagship by OnePlus on Monday.
As seen above, the tweeted image accompanies the text, "Top-half of OnePlus 5T (2.5t? Ha)," which could be hinting towards a 2.5D curved glass. We can clearly see that from the close-up shot of the handset, which shows a single-lens camera, a proximity sensor and a speaker horizontally aligned on a really thin bezel.
The side bezels are almost invisible, and a power button sits on the right panel just below the SIM card tray as seen in the OnePlus 5T. The leaked image also shows the Horizontal Line that made its debut in the OnePlus 5, adding a solid grip to the phone.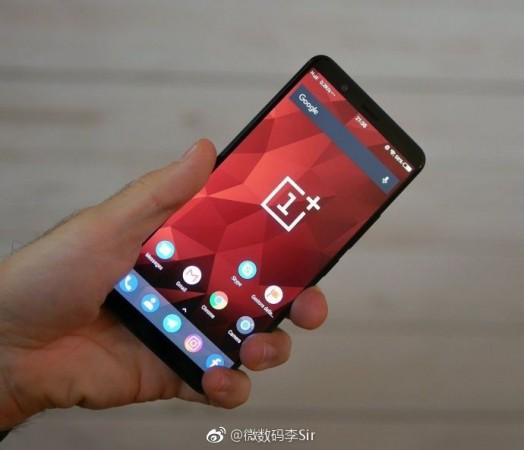 While the bottom-half of the smartphone is not shared by Blass, it is safe to assume a continuance of a similar design and no power button this time around. Based on what we know so far, the OnePlus 5T is going to have a bigger 6-inch display with Optic AMOLED screen, Quad HD resolution and an 18:9 aspect ratio.
The fingerprint scanner is going to be shifted to the back, comfortably placed between the company's logo and the dual camera setup. Speaking of the camera, the new handset will get the same sensor and configuration as in the OnePlus 5.
Besides the design, there will be improvement in the battery, owing to a rumoured 3,450mAh unit. Other specs remain unchanged, including a Snapdragon 835 chipset, 6GB and 8GB RAM for 64GB and 128GB storage respectively.
It is widely believed that the OnePlus 5T will be launched in China on November 16, and India will follow on the same day or shortly after. There is no surprise that Amazon India will host exclusive sale for the handset in the country. The pricing of the OnePlus 5T is open to speculation, which could start at around Rs 35,000 and go as high as Rs 45,000 depending on the storage model.