OnePlus started its journey back in 2014 and in just three years the company is eyeing for the crown. The company's consumer-first strategy has worked wonders for the brand, but will it go on?
Challenging the tech giants Apple and Samsung, OnePlus launched its 2017 flagship OnePlus 5 in India and around the world in June. Following mixed reviews from consumers and critics, OnePlus 5 laid a firm base on which the company will continue its disruptive journey ahead. The smartphone was also the best selling smartphone during the Amazon Prime Day sale in India last month, and that level of recognition doesn't come without a reason.
While we watched the OnePlus 5's success ever since it landed in the market, we stayed committed to pushing the handset to the limits. International Business Times, India, inspected the bundle of features that OnePlus so-proudly showed-off at the launch event during a four-week period.
OnePlus 5 had its stream of "WOW" moments along with some "Oh snap" cries. In this review, we are going to show both sides of the phone that will determine its worth to many potential buyers.
Wow-factors
To begin with, OnePlus 5 packs more than one great specs to make it an absolute beast. What we truly loved about this phone is its capability to perform at its best no matter what. Of course, we have the Snapdragon 835 chipset paired with 8GB RAM to thank for, but the optimization of the software to carry out the most difficult tasks with ease is impressive.
Other features that will woo its users include the super-fast fingerprint scanner with 100 percent accuracy, low-light portraits, snappy UI, and a reliable battery with Dash Charge 3 charger.
Amiss
Details matter. Overall the OnePlus 5 doesn't seize to impress. But if we look closely, the phone gives a miss on certain occasions. For instance, the camera is great on its own. The dual camera setup at the back helps with portraits and the primary lens truly justifies low-light imaging and macro shots. However, the framing remains a concern while shooting landscapes and videos as the lens is not as wide as other phones (iPhone 7 Plus for instance). This forces users to adjust the framing by panning out, which may not be practical under all circumstances.
Besides the camera, we find the design to be traditional. While a lot of people criticised the OnePlus 5, saying it looks like an iPhone 7 Plus, we did not find any reason to look down on that. There may be a few similarities, the rear camera portion to be precise, but OnePlus has added its unique touches in every nook and corner of the phone.
There's more to OnePlus 5 than meets the eye.
Design
Carefully designed to cater to the majority, OnePlus 5 is one of the most practical phones in terms of usability. It's compact, but not too small, stylish but not too loud and keeps the minimalistic quotient in check.
The aluminium unibody shell gives OnePlus 5 the armour it needs to stand against the rivals, but we found the casing to be light and thin. That's not a bad thing at all, as it helped the maker keep the phone sleek at 7.25mm and light at 153g, which adds to the practical use-case.
The "do not disturb" slider with three modes is unique to OnePlus 5 and the single speaker grille at the bottom makes sound loud enough to be audible in a noisy room. At the bottom, we also find the USB Type-C port and the physical home button below the display hasn't disappeared and still houses the fingerprint scanner.
Overall, OnePlus 5 gives a taste of flagship phones with its design, which is hard to get old.
Display
In all fairness, we were disappointed when the OnePlus 5 was launched with a Full HD resolution screen measuring 5.5 inches. While most found it to be a letdown for a smartphone claiming to be a "flagship killer," it makes sense in the real world.
The phone's display has various customisation options to fit the needs of users at different times. The most basic is the adaptive brightness, which adjusts according to the surrounding light and the sensors work efficiently. There's also night and reading mode, which work one at a time.
The night mode is great for watching movies, playing games, using social media in dim-lit areas to reduce strain on the eyes. The reading mode is quite unique, which lets you add apps that automatically switch to paper-like look when launched. For instance, we had the Kindle app set for reading mode by default and it launches the app in black and white without us having to do it every time. You can also add news apps and more similar apps which involve a lot of reading and save battery as well as strain on eyes.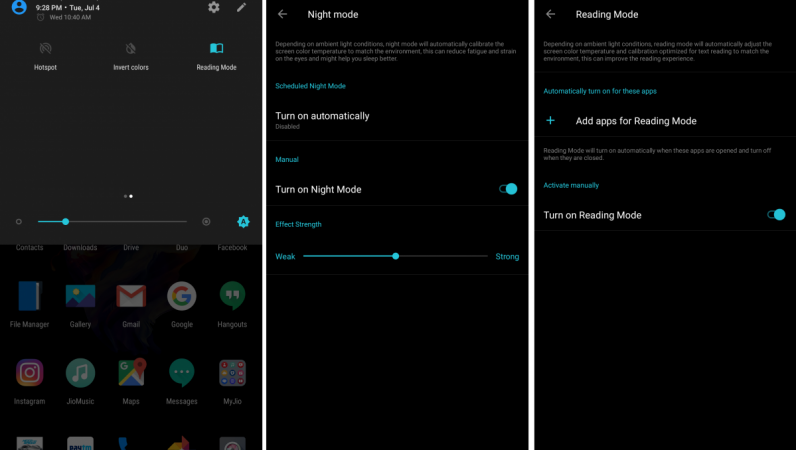 While many users might ignore this, but the screen calibration has options that will push your Full HD screen to its limits. The default setting is ideal, but there's also sRGB and DCI-P3 colour profiles to add the extra punch of colours to the images. For using under brighter conditions, the DCI-P3 comes in handy, while the sRGB gives you a faded taste if that's what you prefer.
OnePlus clearly did not invest much into the display, but the next category certainly did attract a lot of company's attention.
Camera
We know where all the money went. OnePlus 5's camera got the company's undivided attention. The dual camera on the rear, manufactured in collaboration with DxO Labs, combines a 16MP f/1.7 primary sensor with a 20MP f/.26 telephoto lens to produce detailed images. At least, that's what the spec-sheet tells us.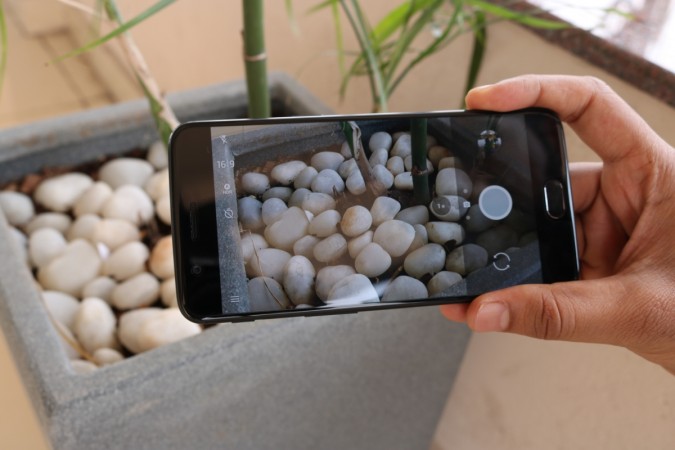 So we took OnePlus 5 for a test run and we must say the phone surprised us on many occasions. The most impressive part of the OnePlus 5's camera is the phone's capability to shoot detailed macro images, even in challenging light conditions. We had a bit of an issue with focusing in low lights, but the Pro Mode comes in handy.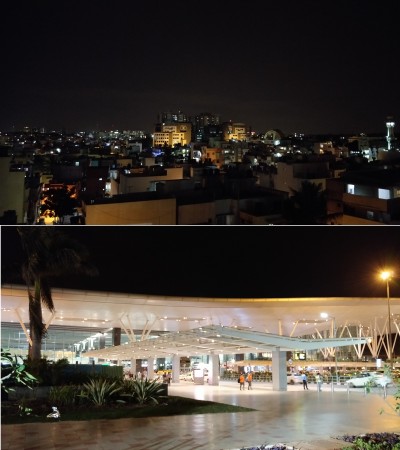 The Portrait mode, which uses both lenses, creates a Bokeh-effect, which we appreciated until compared with iPhone 7 Plus. Unlike the Apple's flagship, the OnePlus 5 allows portrait shots even in dim-lit conditions when the iPhone 7 Plus simply asks to try with better lighting.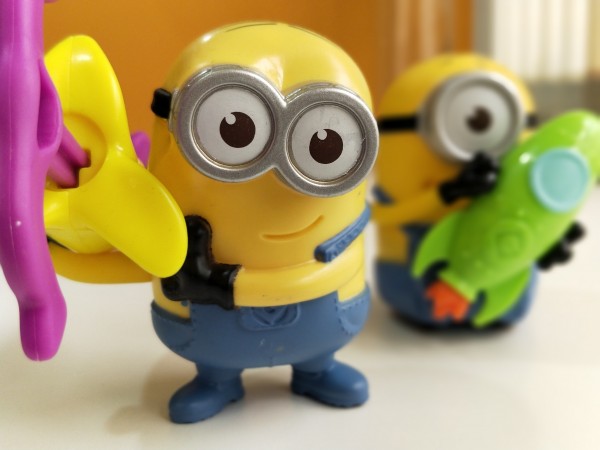 In the Portrait mode, we also noticed inaccuracies in outlining the subject with blur lines. It does the trick to most part, but not as accurately as the iPhone 7 Plus.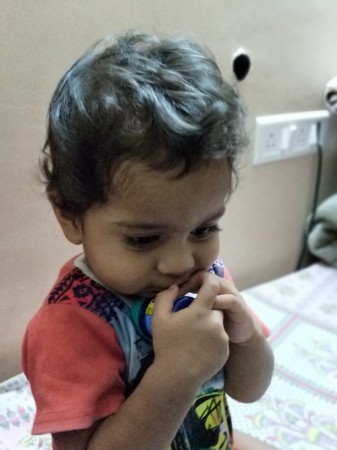 Another disappointment in the camera is the loss of detail and true colours in low-lighting conditions. We also noticed ghosting effect in many photos shot during the day. But the 1X, 2X default zoom options can help you get lossless images even when you zoom. This is a great feature when you are not closer to the subject and unable to identify how much you can zoom to keep the pixels intact.


OnePlus 5's primary lens doesn't capture the subject entirely like the iPhone 7 Plus from the same distance. The lens is not as wide as its rivals, which makes it difficult to get the desired framing without panning.
Despite the shortcomings, OnePlus 5 makes a winning argument with night shots. You can capture the beautiful landscapes of the city with default mode and elevate the results with Pro Mode. If your photos find home in social media, OnePlus 5 isn't a disappointment at all.
We have to side with the iPhone 7 Plus in terms of better photo results. However, videos produced using OnePlus 5 in 720p, Full HD and 2K resolution are up to the mark. The audio is captured in its true form to add value to your video, be it an interview or a concert.
Shifting the focus to the front camera, selfie lovers will find some photos oversaturated under bright lights. In low-lights, the OnePlus 5 camera with its screen flash can save the day. End of the day, your selfies shot on OnePlus 5 will get you equal number of "hearts" on Instagram and "likes" on Facebook.
Let the pictures do the talking.
Performance
OnePlus 5's performance stands in the phone's line of defence. We reviewed the 8GB RAM variant, and did not have any reason to suspect its capability to outperform any of the phones we've used to far.
Long story short, OnePlus 5 is by far the fastest smartphones out there, which will never leave you hanging.
OnePlus 5 is powered by Qualcomm's latest Snapdragon 835 chipset and 8GB RAM. Although, there's a 6GB RAM variant with 64GB storage, but our bet is on the 8GB + 128GB model to supersede your expectations. We had the chance to test the phone's capability while playing games such as Asphalt 8, Need for Speed, and internet-connected Zynga Poker. If you are into high-GPU rendering mobile games, OnePlus 5 is your Alienware.
What really surprised us is the capability of the phone to maintain its cool even during long gaming sessions. The phone does heat up, but never reached to a point where it became unbearable. Also, multi-tasking in the OnePlus 5 couldn't be simpler, faster and efficient.
Another test OnePlus 5 cleared with flying colours is its capability to shoot hours of interviews without heating or malfunctioning. Even the data transfer speed from phone to PC is quite fast.
In short, OnePlus 5 saves you the time you would rather spend on a phone waiting. We love that about the OnePlus 5. The phone's UI based on OxygenOS adds a layer of snappiness to the phone. The simple interface makes the phone usable and tackles the hardest tasks like no big deal.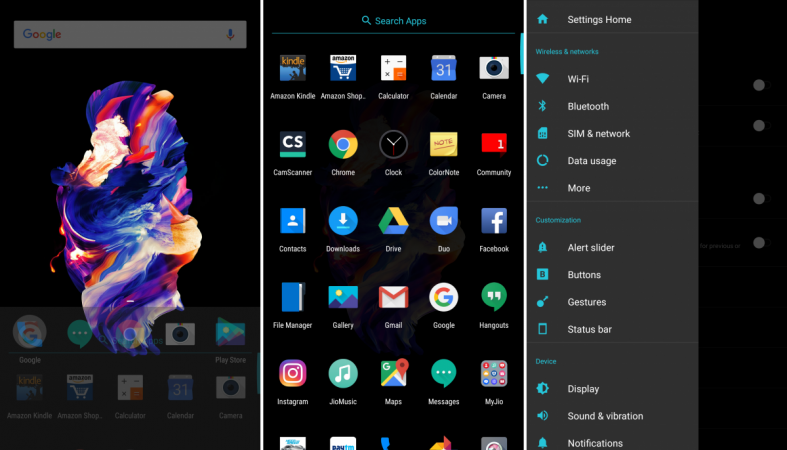 Next up, is the phone's data browsing. The SD835 enables fast browsing and we could feel the difference. High-speed browsing also relies on the speeds that your phone supports and for a corporate OnePlus 5 is a sensible upgrade.
We ran benchmark tests on OnePlus 5 and they din't seem to disagree with our assessment of the phone. Below are the results: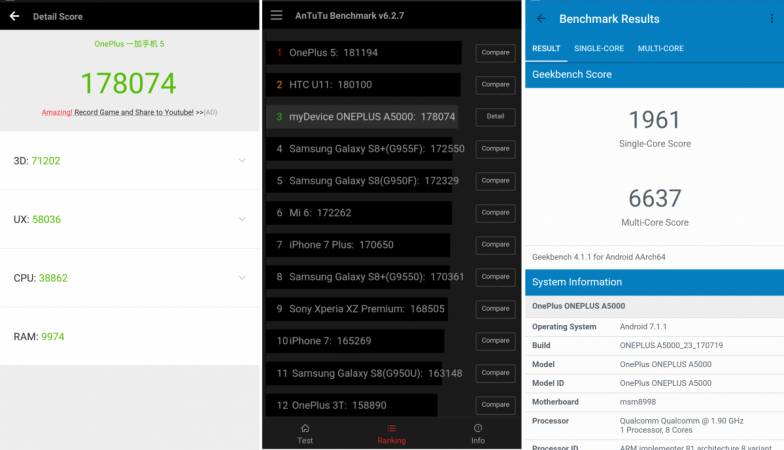 Battery
OnePlus 5 is powered by a 3,300mAh battery, which seems like a downgrade from OnePlus 3T's 3,400mAh unit, but the loss is irrelevant in the real world. The smaller battery delivers a longer battery life, made possible by better optimisation.
In our test, the phone easily lasted a full day with standard consumption. It includes browsing, social media, voice calls, music and gaming. Even with all these activities, the phone was left with a little juice at the end of the day.
OnePlus 5 can accompany you through a busy day and extend beyond a day if you are having an offline day. We used OnePlus 5 as our primary device and used it to cover events, and it exhausted 60 percent of the total battery life in 6 hours of extensive usage. Power users can certainly rely on the OnePlus 5, but it is nothing extra-ordinary as most flagship phones do this job fairly well.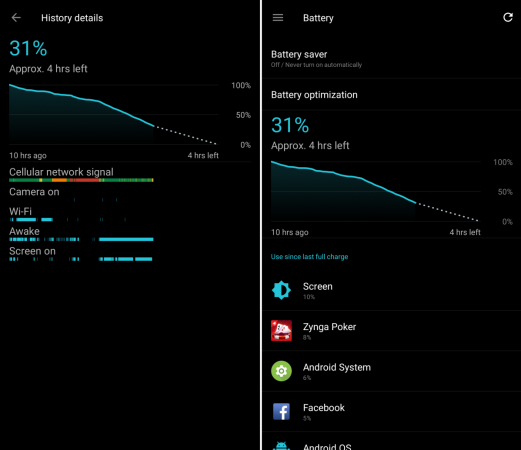 The company's proprietary Dash Charge is what makes the battery useful. Even if you are running low on power, charging the device for about 30 minutes can give you 6 hours of extensive usage and a full day of average consumption. It takes less than an hour to fuel up your phone from 5 percent to 90 percent. The last 10 percent usually takes longer.
On an average day, we were able to use OnePlus 5 12 hours straight with 20 percent power left in the end. If that does not suffice, OnePlus 5 comes with battery-saving mode to give you extra life when you are just about to run out of juice.
All we can say is OnePlus 5's battery isn't disappointing, and Dash Charge adds a useful flavor into the mix.
Note: OnePlus 5 is expected to receive a battery optimisation update shortly, which we haven't received aby update on that as we write the piece. We will update this article with any changes post the software update.
Verdict
There are three scenarios in which OnePlus 5 will be considered:
First, if you are an iPhone user or looking to buy an iPhone. If you're considering OnePlus 5 against iPhone 7 or iPhone 7 Plus, you are probably looking for worth. This is certainly OnePlus 5's area of expertise. It is worthy of its price tag and justifies well with best performance and great features we explained above. In our view OnePlus 5 is a good alternative for an iPhone for the sole experience of Android at its best.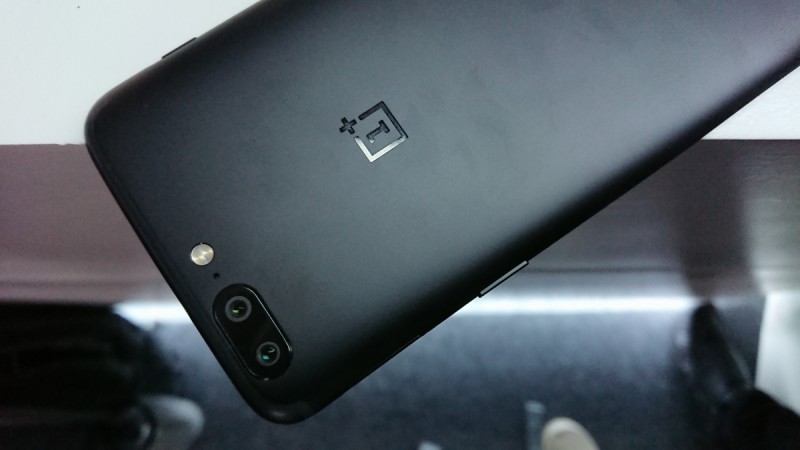 Second case is when an OnePlus 5 is compared against other Android phones. The "experience" factor won't be the trump card in this case. OnePlus 5 must be pitted against rivals for its features and specifications, and to most extent, the "flagship killer" is out on a killing spree. From its design to performance and battery, OnePlus 5 is a reliable flagship one can buy for a competitive price it offers.
Finally, the toughest call is to whether OnePlus 5 is worth upgrading from OnePlus 3T or older smartphones. If you are still hanging on to the OnePlus One or OnePlus 2, we strongly recommend that OnePlus 5 is a worthy upgrade. If you are a OnePlus 3T user, which has 6 gigs of RAM, OnePlus 5's 8GB model makes a sensible choice, but only if you weigh performance of the phone to be more important. The rest of the features such as UI, design, camera and battery aren't really the things you would be looking for with the upgrade, even though they add a sensible value.