OnePlus finally launched its flagship smartphone – OnePlus 5 – in India on Thursday. The event took place in Mumbai's NSCI Dome, which was packed with VIP guests, media and a massive bunch of fans. Post launch, the OnePlus 5 handsets were available for hands-on review at the venue itself, where we had ample time to explore the phone.
OnePlus 5 received much hype even before the official launch and kept fans busy with frequent teasers and constant rumours. OnePlus 5 was practically unveiled even before it was officially launched, but the formal event put an end to all the rumours.
Finally, when we had the chance to experience the OnePlus 5, we felt quite familiar with it. The new flagship by OnePlus is priced starting at Rs. 32,999 for 64GB model and Rs. 37,999 for the 128GB variant, making it the most expensive OnePlus smartphone ever. This raises concerns and a major question – Is the OnePlus 5 worth it?
Our quest to find a suited answer to that began at the launch event of the OnePlus 5 smartphone, when we spent time with the phone. Here's our quick review of the OnePlus 5 smartphone:
Design
When OnePlus shared the first image of the OnePlus 5 before its launch, everyone started to criticise it for being an iPhone 7 Plus-mock up. When we had the chance to see it first hand, except for the rear camera placement, there's nothing similar to the iPhone at all.
OnePlus 5 stands on its own but doesn't really stand out in the crowd. It won't be wrong to call the OnePlus 5 a me-too smartphone in the crowded market. But there are some elements in its design that are more practical in use than any other phones.
Read: Is OnePlus 5 a gamut of disappointment or an ocean of precision?
Subtle things, such as the horizon line along the sides gives a firm grip and the metallic back is non-slippery. It's sleek at 7.25mm and ideal for single-handed use despite its large 5.5-inch display. Speaking of the display, OnePlus refused to shed the bezels around the display. Samsung has led a great example and it would have been great to see something challenging from OnePlus.
We won't be able to give full marks on the design, but OnePlus 5 certainly ranks among the top 5.
Display
OnePlus 5's design comes down to personal preferences, which can be disappointing or exciting for some users. But the OnePlus 5's display was a major letdown. Not in the sense of usability, which is quite practical, but in terms of innovation.
VR holds a great potential in the future, and OnePlus 5 is not future-ready. Its Full HD display limits users to experience an exhilarating visual appearance of virtual reality as compared to 2K and 4K displays. Samsung, Sony, Xiaomi and others have already jumped the bandwagon on the higher-res displays, and it's high-time OnePlus did too.
Read: Sony Xperia XZ Premium Review
Camera
OnePlus 5's camera managed to keep our attention even while exploring the design and display of the phone. The rear dual camera setup is the world's highest resolution, the company claims. A 16MP sensor with f/1.7 aperture and a 20MP secondary telephoto lens with f/2.6 aperture sounded quite exciting, and then we had hands-on with the device.
Frankly, the OnePlus 5's rear camera was hyped a bit too much. It is great, no doubt about that, but when it comes to pushing devices like iPhone 7 Plus to the sideline we have our doubts. But again, this was based on our brief time spent with the phone in a decently-lit room and no comparison phone in hand.
There are some exciting Pro and Portrait modes, which let us play more with the camera, and that was quite an experience. Our detailed review will feature results from OnePlus 5's camera in different settings and modes.
OnePlus 5 features a capable 16MP selfie camera, which we found incredibly great for those who love capturing their own portraits. Shooting selfies in low-light yielded good results.
The camera's software plays an important role in OnePlus 5 by packing features like Smart Capture. OnePlus 5's camera is not the only major highlight of the phone, but it is certainly one of the tops.
Performance
Our favourite area of exploration was the core of the OnePlus 5. The interesting spec-sheet makes the device insanely powerful. This will allow us to push the limits on high-GPU gaming, enormous amounts of background activity, high-speed fiber-like browsing and much more.
Snapdragon 835 chipset paired with 8GB RAM (although there's a 6GM RAM variant available, too), is ideal for those who use their phones as PCs. During our brief review time, we found the device extremely fast. No lags, no app crashes, no software glitches.
Of course, it is too soon to conclude whether OnePlus 5 is entirely glitch-free based on our preliminary review, so we'll reserve our judgment until the final review of the handset. But we are confident that OnePlus 5 will give most flagships a run for their money with its impressive performance.
Then there's also a fingerprint scanner in the home button with ceramic coating, which works like a charm.
Battery
OnePlus 5 has a 3,300mAh battery with Dash Charge support, which is the best fast charging technology out there. We'd have to test the device for several days to finally track its battery life, but we have no doubt it will last a full day. Snapdragon 835's battery optimisation to draw 40 percent less power and Full HD resolution display will add extra hours to the OnePlus 5's battery life.
Software
Apple iPhones are about the experience, and it looks like OnePlus is going down that road. A lot of work was put into the software bit of the phone to ensure a smooth user experience. Android Nougat-based OxygenOS adds value to the phone. New features like Reading mode, Gaming Do Not Disturb Mode and App Priority are practical in day-to-day use.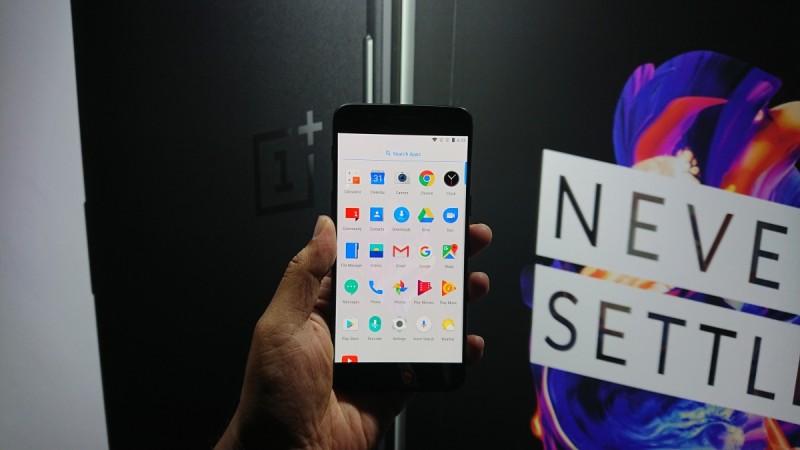 In fact, the entire UI underwent a makeover to suit user's convenience. The capacitive touch button functions on both sides of the home button can be swapped, users must swipe up to access the main menu just like in the Galaxy S8 and all the important options are at the front and centre to easily catch your eye.
Is it worth it?
Moment of truth. Is OnePlus 5 worth it?
This is the question any smartphone user would ask before upgrading to this new handset in the market. In our view, OnePlus 5's specs make it absolutely worthy, but if you're looking for an iPhone 7 Plus alternative, it's more of a choice between the operating system than the specs.
Of course, the price of the OnePlus 5 makes it appealing to budget shoppers, but you're not devoid of options in the sub-Rs. 40,000 price range. Let's see if using OnePlus 5 over time will change our initial view of the phone, after all the company is counting on the experience more than anything else.