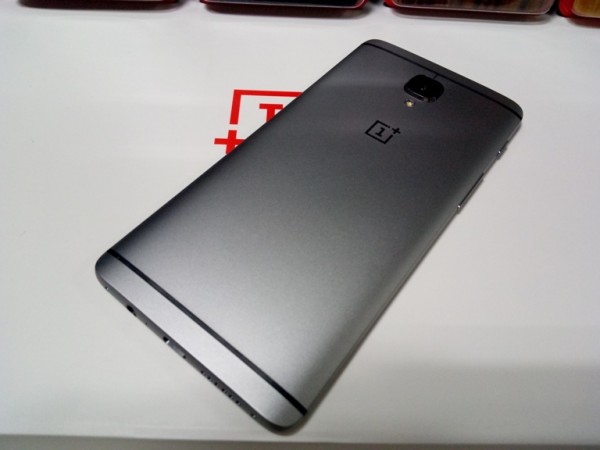 Ever since it was launched this month, OnePlus 3 has been receiving nothing but praise from consumers and critics. The handset has been compared against industry's leading flagship devices for its premium offerings despite an affordable price tag. One of the key features of the handset is its fingerprint sensor, which the company claimed is the fastest one out there. Now, there's proof.
In a video uploaded by British YouTuber and reviewer Safwan Ahmedmia on Tuesday, OnePlus 3 is compared against Apple iPhone 6s in a fingerprint scanner speed test. The Touch ID sensor on the iPhone 6s is perceived as one of the fastest and accurate biometric sensors in the market, but OnePlus 3 poses a stiff challenge.
Ahmedmia conducted the fingerprint scanner speed test against iPhone 6s and OnePlus 3 by turning off the animations on both devices and then again by keeping the screen turned on. The video was played back in 20 percent speed and it is clearly visible that OnePlus 3 unlocks faster than iPhone 6s.
In Apple's defense, as Gadgets360 pointed out, the delay in unlocking the iPhone 6s via fingerprint touch is not a flaw. Users had complained that Apple's biometric scanner was too fast and users were unable to glance through the notifications without unlocking the device. Apple reportedly slowed down the authentication process in response to users' complaints.
OnePlus 3 is a well-received flagship in India and overseas. The handset excels in design and offers premium specifications and features for a premium user experience. It is priced at Rs. 27,999, which is totally worth it for a handset with its configurations.
OnePlus has also ditched the invite-only sales model this time, making it easier for buyers to purchase the OnePlus 3. Although it is available only in graphite colour, a soft gold variant is expected to be available in the second half of July. We are in the process of reviewing the OnePlus 3, but our impressions so far have only been positive.
Watch the iPhone 6s vs OnePlus 3 fingerprint scanner speed test video below: