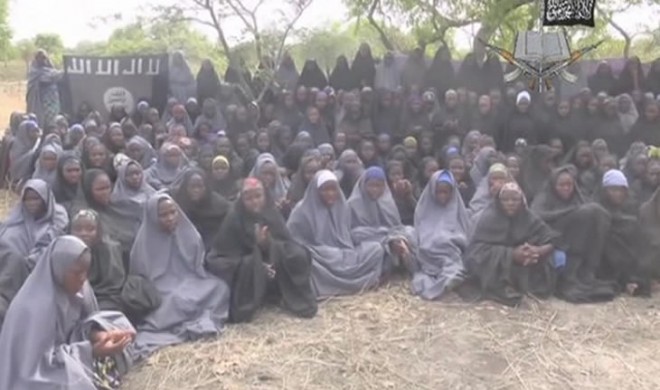 After the mass abduction of schoolgirls from Chibok last year, Boko Haram has kidnapped at least 2,000 women and girls to be used as sex slaves, according to Amnesty International.
The Amnesty report, titled 'Our job is to shoot, slaughter and kill: Boko Haram's reign of terror', was released on Tuesday. It highlighted that many of the kidnapped girls were used as sex slaves, suicide bombers, and some were even brainwashed into taking up arms.
The 90-page report also contains graphic evidence, including new satellite images, showing the trail of Boko Haram devastation across Nigeria.
The kidnapping of more than 200 schoolgirls from Chibok, in the northeastern state of Borno, on 14 April 2014 gained international prominence, especially after the #BringBackOurGirls campaign went viral.
The last update about the Chibok girls was from Boko Haram leader Abubakar Shekau, who claimed that the girls had been "married off" to his fighters.
The Amnesty report, however, noted that the Chibok girls were just few of the women abducted by Boko Haram and the total number could be higher than 2,000.
Boko Haram, which means 'Western education is sinful' in Hausa, has routinely rounded up women and girls after taking control of a town. The group has had held them in houses or prisons.
A 19-year-old woman told Amnesty that she was abducted at a wedding in September 2014 along with the bride and the bride's sister. The girl was then held at a training camp in Madagali alongside hundreds of female fighters.
"I was among the girls trained to shoot. I was also trained how to use bombs and how to attack a village," said the woman, who was gang-raped several times by the guerrillas.
She told Amnesty some of those who refused to covert to Islam or to fight were dumped in a mass grave.
"The evidence presented in this shocking report, one year after the horrific abduction of the Chibok girls, underlines the scale and depravity of Boko Haram's methods," said Salil Shetty, Amnesty International's Secretary General.
Boko Haram Victim Narrates her Horror- Video