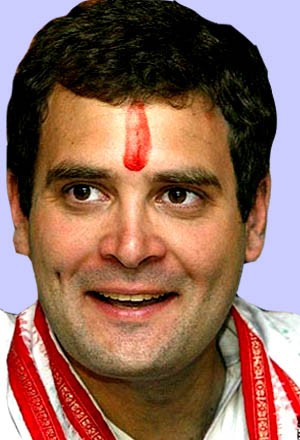 Welcoming the anti-corruption campaign by Anna Hazare, Congress leader Rahul Gandhi broke his silence on the Lokpal issue Friday, saying "one legislation was not enough to fight corruption," reported Reuters.
"The campaign by 74-year-old Anna Hazare has sparked the biggest protests in decades from a middle class angered by endemic bribes," said Rahul while addressing the Lok Sabha.
"Anna Hazare has helped articulate public sentiment; I thank him for that. He has emerged as a lightning rod for widespread anger at a political class seen as arrogant and out of touch," he said.
"The need of the hour was not just a strong Lokpal but to go beyond and make the Lokpal a constitutional body like election commission," said Rahul.
Highlighting the need for a strong Lokpal, he said, "an effective Lokpal law is only one element in the legal framework to combat corruption. The Lokpal institution alone cannot be a substitute for a comprehensive anti-corruption code. A set of effective laws is required.
"There is a perception that the enactment of single bill will eradicate corruption, I have serious doubts. Lokpal alone cannot be a substitute to anti-corruption code. A set of laws is required," he said.
"We are aware that corruption is pervasive. It operates at every level. The poor may carry its greatest burden, but it is an affliction that every Indian is desperate to get rid off," he added.
He further explained that fighting corruption is as integral to eliminating poverty as is Mahatama Gandhi NREGA or the Land Acquisition Bill, "yet it's equally imperative to the growth and development of our nation."
IBN Live reported, "As soon as Rahul Gandhi made the above statement, opposition members started shouting slogans which was countered by the treasury benches."
Some in the opposition members asked why Gandhi was given permission to speak when the house should debate different versions of the Lokpal bill.
A few of them also ridiculed him for reading out from a prepared speech.
Gandhi also warned against undermining democratic institutions, saying India's biggest achievement is its democratic system.
"A tactical incursion, divorced from the machinery of an elected government that seeks to undo the checks and balances created to protect the supremacy of Parliament, sets a dangerous precedent for a democracy," Gandhi said.
"Today the proposed law is against corruption. Tomorrow the target may be something less universally heralded. It may attack the plurality of our society and democracy," he warned.