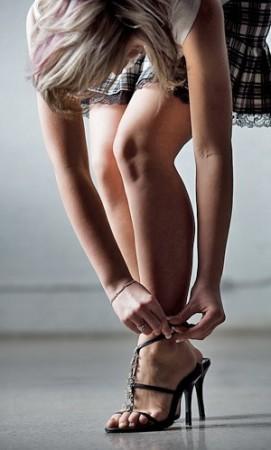 A new study in the United Kingdom centering on women's choice of footwear has found "one in three women carry a comfortable pair of shoes in their handbag to change into when their high-heeled shoes start to ache," according to a report in The Indian Express.
The study was carried out by shoe specialist Hotter Shoes, and about 2,000 women were interviewed.
"The research highlights the amount of pain women encounter in uncomfortable shoes, but shows they are willing to do something about it -- logically, shoes that look good and feel fantastic are the answer," the Daily Mail quotes spokeswoman Lisa McCarten as saying.
"We were astounded to find comfy shoes often being seen as 'handbag accessories' in women's daily lives. Shoes shouldn't have to be worn in -- it should be a pleasure to put on a brand new pair of shoes, not a pain," she added.
HIghlights of Study
-- 84 percent of respondents say they wear killer heels on a night out.
-- One in 10 women say they can find comfortable high heels.
-- 81 percent admit to experiencing pain while wearing killer heels.
-- 34 percent of women anticipate experiencing pain from their shoes within an hour of leaving home.
-- 60 percent carry plasters because they expect blisters or cuts.
-- 50 percent buy new shoes to take on holiday.
-- Almost 60 percent have experienced pain while abroad.
"One in three [women] has had to buy another pair of shoes when out of the house due to the level of discomfort experienced in the shoes they were wearing," concluded the study.