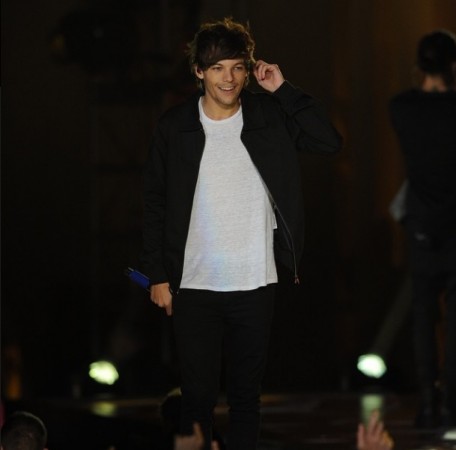 Before going on a long hiatus in March 2016, Louis Tomlinson from "One Direction" is on a full swing, preparing for his post-One Direction time. Besides waiting to become a father with "good friend" Briana Jungwirth, the singer is reportedly boss Simon Cowell's pick to replace Sinitta as the X Factor UK's judge.
The 12th season of the British singing show, which is open for talents from across the globe, has several people to watch out for. Divided into four categories, a total of 64 acts will battle it out amongst themselves to make it to the six-chair challenge.
The boot camp saw the contestants take their performance one notch up, but the real drill lies in the next stage where they will sing live for the first time to be one of the six hopefuls from each category to win the competition.
This year the boys' category saw singers come with full package – stage presence, voice and personality. It had been very difficult for the judges--Simon Cowell, Rita Ora, Nick Grimshaw and Cheryl Fernandez-Versini--to choose the deserving ones, but they have done a pretty amazing job so far.
The Boys
Although all the 16 boys are equally good, some stand out from the rest.
Ben Clark, the 25-year-old receptionist flew Rita Ora's heart away in his first audition and continued to stun the judges at the boot camp as well. His angelic voice has already won him many female fans, not to forget his chocolate boy looks. Keeping in mind the 'X-Factor' hunt of the show, he looks an apt amalgamation of voice and charm, making him a strong contender for the six-chair challenge.
When it comes to soulful music how can we forget Che Chesterman, the 19-year-old who claimed on his audition that the music industry lacked surplus soulful musician? This nerdy looking teenager with a beautiful smile and great voice almost looks certain to grab one of those six chairs. In fact, if he doesn't lose his mind he can actually win the competition.
Making Simon Cowell cry is a task worth making to the Guinness World Records and Josh Daniel, 21, is the person who achieved that feat. With his rendition of Labrinth's "Jealous", he not only made Simon cry, but left Cheryl Fernandez-Versini bawling her eyes out. He is that versatile singer who has the potential to sing any song and thus, makes a strong contender too.
The male nanny or manny of the show--Jordan Luke Gage, who hits the high note like a cakewalk--is yet another potential six-chair nominee. Swooning the ladies with his cute dimples and the emotional rendition of Wiz Khalifa's "See You Again", he is that hurdle others will find difficult to overcome.
Seann Miley Moore, 24, has hands down got the X-Factor. He is unique in the way he looks, dresses and not to forget his mind blowing voice that left Rita Ora in tears after his first audition. The London born Australian immigrant, proved himself better by each round and with the feels that he incorporates the songs it will be worth watching what he comes up with in the six-chair challenge.
Simon Lynch, 23, gifted the audience and the judges with a bit of a laugh, sharing the name with Simon Cowell. However, he proved that he is worth more to be remembered for. With his courageous attempt of Roberta Flack's classic "The First Time Ever I Saw Your Face" he proved himself to be a potential contender for winning the show.
The Girls
Kiera Weathers, 18, who wowed the judges so much that both Cheryl and Simon expressed their desire to mentor her, continued to show that she has what it takes to win the X Factor. With her fresh voice and humble personality, she is certainly one to watch out for.
Skipping her job to come for the audition proved to be completely worth it in case of Lauren Murray. The 25-year-old receptionist though looked nervous in the beginning, putting Simon off a bit, her powerful voice lit up his face soon. She has the capability to blow the live shows when the six-chair challenge comes up.
Katie Coleman, 21, channelled her heartbroken emotions beautifully through her rendition of Ariana Grande's "Break Free" during her audition. Her calm outside and fiery inside that helped her belt out massive high notes, makes her an absolute favourite not only for the six-chair challenge, but also to win the show.
Charlie Beard, 17, is a powerhouse. She belted out Sam Cook's "A Change is Gonna Come" in her audition and after that there was no turning back as she only mesmerised the judges. This youngster certainly has the potential to get one of those six chairs.
Last, but not the least, Louisa Johnson, another 17-year-old who came on the show as a very shy and nervous girl, but turned out to be a lioness with her strong vocals. She appears to be in her own world when it comes to singing and there seems to be a very less possibility of her not making the finals of the show, let alone one of the contenders of six-chair challenge.
Overs
Hannah Marie, the 30-year-old who works in her family farm, is a pretty singer. Fighting the odds of chasing her dreams to become a singer even after belonging from countryside, she is a full package, required to win the X Factor.
Ebru, the 27-year-old singer, stunned the judges with her husky voice and soulful singing. Although she hasn't produced a jaw-dropping performance yet, there is a possibility to change.
When it comes to "nasty" and "memorable" performance, how can we forget Bupsi? This 37-year-old who has been "nice" throughout her life, literally threw herself on the judges' table, particularly Simon Cowell, in her audition. She would be an interesting nominee to the six-chair challenge and bears the ability to get one as well.
Sherilyn Hamilton Shaw, the 40-year-old mother of three who gave up singing to take care of her then paralysed husband, has wowed the judges off their feet so far, even making Cheryl cry in her audition. She is certainly a very strong contender in this category.
Neneth Lyons, 36, another mother, came off very nervous in her first audition. However, so far she has managed to overcome her emotions and amaze the judges with her outstanding vocals. She is the dark horse of the category and if she could continue to control her nerves one of those six chairs would be confirmed to have her name.
With an aim to come from behind the shadow of Tina Turner, her backing singer Anton Stephans, 44, has been hailed a "diva" by Simon Cowell. His capability to pour his heart into the songs can easily and convincingly book him a chair.
Groups
Rumour Has It
This returning X Factor act from last year has raised everyone's hopes real high. After being put together last year by none other than Cheryl herself, Saffron (17), Abby (18) and Leah (17) came back to the show this year and we can't thank them enough. They have the urban age and the cool style that has the potential to win the current music market. Having said this, they definitely stand a massive chance to win a spot among those six chairs.
Silver Tone
The five-piece girl band, that failed to impress the judges in its first attempt, showed that sticking to your roots is always a better option. However, versatility is a good virtue to possess when it comes to win X Factor. Although the girls didn't show that, technically they're hell bent to prove they deserve to be on the show and this fire might just help them produce their best performance ever and win them one of the six spots.
BEKLIN
Another five-piece band, but this time boys, this band captivated the judges with their rendition of James Bay's "Hold Back the River". They are one of the strongest contenders in this category as well as in the competition and certainly look to win a chair.
The First Kings
During their audition their video tape, introducing themselves took the judges aback a bit. However, when the time came to deliver, these five boys blasted the stage and set it on fire, making everyone like them. Their rendition of Mark Ronson's "Uptown Funk" wowed the judges and defined a unique personality of themselves.
Alien
This group of six girls is the new-age punk rock artiste that has long been missing from the music industry. Their rendition of Black Eyed Peas' "Pump It" in the audition left Chery and Nick literally open-mouthed. And making their impact all the more strong, they shined in the first stage of boot camp, stealing the spotlight and wowing the judges by singing Meghan Trainor's "All About That Bass".
4th Power
These Filipino sisters took a daring step by flying all across the globe to land in London just to get one shot at X Factor. And so far they've proved that they're little firecrackers or as Rita Ora said during their audition "little monsters" when it comes to vocals and complete performance. They are almost an absolute certainty in one of those six chairs.
With the prospect of singing before Louis Tomlinson ahead in the judges' house challenge, it will be a real task for the contestants to get through the six-chair challenge and make it to the judges' house.
Watch out for the first episode of "X Factor UK" six-chair challenge, on Sunday 4 October at 7 pm (BST) on ITV. You can also live stream the episode on itv.com.