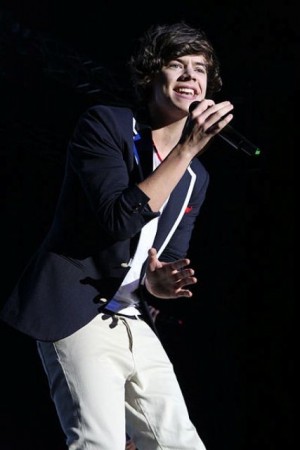 Harry Styles has once again sparked romance rumors after pictures emerged of him hanging out with Lou Teasdale, the band's hairdresser, in Denmark early this month. The pictures show the pair enjoying lunch at Krog's Fish Restaurant, after which they indulged in some ice creams.
On Monday night, the two were again spotted leaving the Chiltern Firehouse in London after what is believed to have been a cosy dinner date.
Teasdale split from her fiancé Tom Atkin, with whom she has a daughter, early this year, and Styles has reportedly been a great source of comfort throughout the separation.
"There's a chance Lou and Tom will sort things out, but Harry's supporting Lou for now. They're having big hearts-to-hearts all the time," a source told Now Magazine. "Lou's devastated and her priority is Lux, but she's grateful to have Harry in her life – he's good at cheering her up."
Teasdale has been with "One Direction" since the start of their career, and over the years, she has formed a close bond with Styles.
"They do everything together. They're very close and their friends overlap. Harry's not got a lot of people he can trust and the lines could easily blur. Everyone that knows them has speculated that Harry's in love with Lou, but he's as confused about his feelings as anyone," the insider dished.
These latest reports come shortly after Styles ended his relationship with reality show star Kendall Jenner.
Although Styles appear to have moved on from Jenner, she is finding it difficult to put her relationship with the "One Direction" singer behind her.
The two started dating sometime last November, but their romance frizzled out after their PDA-laden date at the Coachella Music Festival in April.
"Now Kendall desperately wants him back," a source told Radar Online. "She loved the attention dating Harry gave her, plus she really fell for him big time."
However, Styles is not interested.
"Kendall really opened up to him and he did nothing but use her. That hasn't stopped her from dreaming of a rematch and after a night out with the girls, she'll come home and start calling him," the source told Radar.
"Harry rarely takes her calls because he knows when he's pushed his luck when it comes to a woman's heart and Kendall's got it bad for him. He doesn't want to encourage her, but it's turning into an embarrassing situation – for both of them."