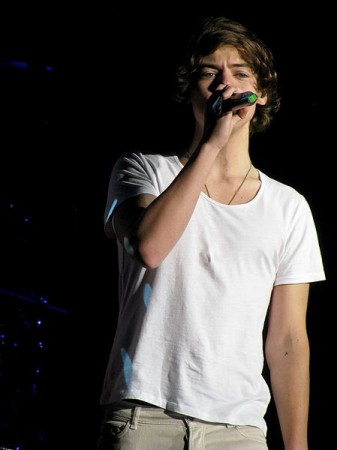 One Direction's Harry Styles, who is known to be a playboy, has reportedly found new love in singer Demi Lovato.
Lovato is said to have split from her actor boyfriend Wilmer Valderrama after Lindsay Lohan revealed that he was among the men she has had sex with.
Celeb Dirty Laundry reported that Lovato has been hanging out in London for the past few days, and the reason could be Styles. But the report goes on to add that Styles might not be the perfect choice for a boyfriend as he is unstable, and his longest relationship lasted only three months.
Styles was last said to be romantically involved with Kendall Jenner, but they broke up when hectic work schedules prevented them from spending time together.
However, if recent reports are true, Lovato might have stiff competition from Jenner, as she has expressed an interest to get back together.
"Now Kendall desperately wants him back," a source told Radar Online. "She loved the attention dating Harry gave her, plus she really fell for him big time."
"Kendall really opened up to him and he did nothing but use her," the source continued. "That hasn't stopped her from dreaming of a rematch and after a night out with the girls, she'll come home and start calling him.
"Harry rarely takes her calls because he knows when he's pushed his luck when it comes to a woman's heart and Kendall's got it bad for him. He doesn't want to encourage her, but it's turning into an embarrassing situation – for both of them."
Interestingly, this is not the first time Styles and Lovato have been linked together. In 2012 they were said to be an item, but according to reports, their chemistry frizzled out when Taylor Swift entered the picture.
When Lovato was asked about the Styles-Swift relationship at the time, she is believed to have feigned disinterest saying she doesn't know about it, and doesn't care as well.
And during a Company interview, Lovato went on to add that she doesn't care about either Styles or Swift. "I don't care about Taylor Swift's love life. I don't care about Harry Styles' love life. I care about mine. I find it weird that people are so obsessed with other people's love lives!" HollywoodLife reported.
It remains to be seen if Lovato and Styles are indeed an item, but an eagle-eyed fan took to his Twitter account recently to note that both Styles and Lovato has a similar taste in tattoos.
am I the only one who noticed that Demi Lovato and Harry Styles have almost the exact same tattoo in the same place? pic.twitter.com/2aLv5URWgT

— lexi (@britsarethebest) May 26, 2014