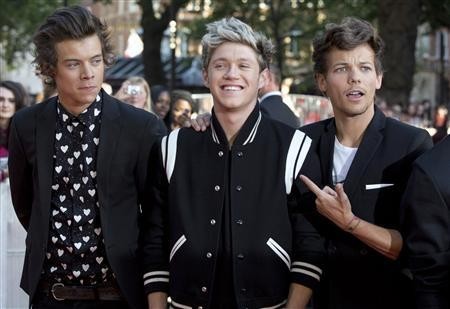 Amid speculations that popular boyband One Direction would split soon, two of the bandmates - Louis Tomlinson, 22, and Zayn Malik, 21 - were captured smoking what seemed like marijuana in Peru. The incident sparked more rumors on the band's future and concerns whether they would get into trouble.
An exclusive video, released by Mail Online, shows Tomlinson and Malik smoking what appeared to be marijuana, inviting the wrath of critics and fans alike. Their bandmate Harry Styles is also understood to be upset with the boys for their irresponsible behavior.
However, Simon Cowell, who formed the band on X Factor 2011, has stood by their side, saying the fans would not abandon them.
"I've worked with a lot of artists who do lose the plot and do lose respect for their fans and forget who took them there, but they've never done that. They really do love their fans. They've been a joy to work with," Cowell was quoted as saying by the Mirror.
"They are the hardest working boys I've ever worked with. They haven't changed. They're great British exports. I hope the fans stay loyal," he added.
Meanwhile, One Direction bandmate Liam Payne has apologised to the fans on behalf of his collegues, through a series of tweets.
I love my boys and maybe things have gone a little sideways I apologise for that.We are only in our 20's we all do stupid things at this age

— Liam Payne (@Real_Liam_Payne) May 31, 2014
We all have a lot of growing up to do in an extreme circumstance I'm not making excuse but it's fact we are gunna fall short somewhere — Liam Payne (@Real_Liam_Payne) May 31, 2014
Hopefully we stand the test of time an get it right in the end I don't take this for granted and im extremely grateful to be here doing this

— Liam Payne (@Real_Liam_Payne) May 31, 2014
Thank you to everyone who has stuck with us through this just know that we love you guys for it and it means the world — Liam Payne (@Real_Liam_Payne) May 31, 2014
Interestingly, neither Tomlinson nor Malik, who were caught in the video, have come out to clear the air or offer an apology. They could face a ban in the United States for the act, and thus disrupt their upcoming tour of the country.